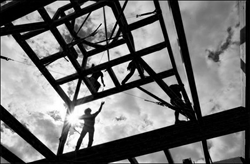 Raising a timber frame is an important and exciting event – it is an age-old craft where the bones of the project come together
Farmington, NY (PRWEB) June 30, 2015
New Energy Works Timberframers invites the public to join their timber frame raisings in western New York July 7th and 11th 2015. Timber frame post and beam raisings offer a chance to witness the culmination of months of planning, designing, and traditional craftsmanship.
"Raising a timber frame is an important and exciting event – it is an age-old craft where the bones of the project come together," explains Eric Fraser, Timber Frame Division Manager at New Energy Works.
New Energy Works continues to strive to maintain their position ahead of the curve with whole home envelopes, to craft homes with new materials and methods to achieve 'Net Zero' in energy use. The CreekSide Net Zero project will be their first Net Zero home. A building with zero net energy consumption means the total amount of energy used by the building is roughly equal to the amount of renewable energy created. They have designed and will build this home in partnership with CreekSide Energy Solutions. Overall the home will marry finely tuned energy and enclosure solutions with an environment suited for creating artwork, woodworking and a retirement lifestyle. This project will be raised in Richland, New York on Tuesday, July 7th beginning at 8am until 2pm.
Settled on a cliff above Cayuga Lake, the Lake House project is a full timber frame home which will use over 500 timbers to create 4,880 square feet of living space for a growing family. The interior frame will be crafted of kiln-dried Douglas Fir, while the exterior will use fresh sawn Douglas Fir with kiln-dried curves. Two distinct bowstring trusses with steel bottom chords are featured in the kitchen to support the second floor above. The timber frame will be raised in Ithaca, New York on Saturday, July 11th beginning at 8am until 2pm. Parking is limited. Please see the event listing for more details.
In the month of July, New Energy Works will also raise the Finger Lakes Museum project, a pavilion at Green Lakes Golf Course, and other private projects. Follow their social media or events/raisings for the latest information.
About the Finger Lakes Museum Project: This project started with reclamation of an existing barn frame. New Energy Works refurbished the frame and its joinery. They will re-raise the antique timbers in Branchport, NY where the new-old barn will serve as the Creekside Center focused on Finger Lakes wetland wildlife.
"The Finger Lakes Museum's Board of Trustees is excited about the prospect of turning a 19th century agricultural barn, which was donated to the project, into the museum's Creekside Center– a kayak and canoe livery that will enable visitors to enjoy a wetland wildlife experience from a waters-eye perspective. I would also like to express our gratitude to New Energy Works Timberframers for helping us to bring this part of the project to fruition." John Adamski, President, Board of Trustees.
Timber framing is a traditional form of building structures of heavy timber jointed together with pegged mortise and tenon joints — no nails. The craft is sought after not only for it's aesthetic, but for the longevity and efficiency it provides over more common structures. Whether you're planning a home, designing for a business, curious about the use of timber as structure, or interested in heavy timber as a sustainable construction method, this is an event worth seeing.
RSVP is appreciated. Call, visit, or email for details and directions. (Subject to change due to weather, site conditions, etc.)
New Energy Works Timberframers have been designing and building environmentally responsible timber frames across the USA for 30 years from their facilities in New York and Oregon. Offerings include: Timber Framing (design, engineering, manufacturing, build), Enclosure Systems, Fine Woodworking, Recycled and Sustainable wood products. New Energy Works has two LEED AP staff members, is a member of the US Green Building Council and is FSC® Certified*.
*FSC-C109137