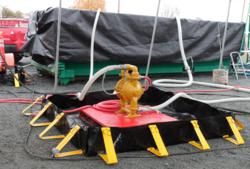 Always in stock inventory guaranteed
Meridian, Idaho (PRWEB) June 30, 2013
Lean manufacturing has significant sway at most companies, and AIRE Industrial is no stranger to the seven deadly sins. Yet the company has consistently decided to use the just-in-case manufacturing model as opposed to the just-in-time manufacturing model. Why would a spill containment supplier keep a warehouse full of containment berms?
Over the years, AIRE Industrial has noticed an uptick of emergency overnight shipments to customers. Most state that their operations will be shut down the next day if spill containment is not put in place. EPA inspectors are not only fining companies, they are shutting down operations without the appropriate safeguards. EHS (emergency health and safety) and compliance managers walk a fine line between fiscal requirements and regulatory observance. When the call comes in that spill containment is needed now, AIRE Industrial has the capability to send products immediately.
Holding inventory can be expensive and risky. Tim Lewis, Business Development Director states" The company believes in lean principles, but also believes in the greater good of keeping clients out of harm's way. By having plentiful inventory of containment berms and other spill products, customers have a go-to source for emergencies. Not every situation can be prepared for, and the notion that all work must stop due to an oversight can be addressed promptly with the right configuration of products. In an industry as volatile as spill containment a supplier has to be ready for anything, and that means taking on the risk of keeping product on the shelves."
AIRE Industrial has the largest array of containment berms in the market, from the Quick Snap Berm which offers drive through capability to the L Stay Put Berm that has a compact footprint for snuggling up to walls and other constricted spaces. Makers of the famous spill containment Duck Ponds and the GO GO Berm keep a running stock of these items as well, in addition to washdown pads and drip pads with replaceable sorbent liners. Spill kits are other well-stocked items that come sized from five gallons to ninety-five gallons in various configurations ranging from duffle kits to large overpack drums.
Not only does the company carry in stock items, special emergency runs can be performed as well. A recent client had an urgent situation and needed a unique sized containment berm the next day. The EPA was on site and threatened a shut down if containment was not immediately provided. AIRE Industrial had the spill berm manufactured and out the door within hours. Situations like the one above are all too common within the spill containment industry, and are the reason AIRE bucks the just-in-time principle.
For more information about spill containment solutions, contact Aire Industrial, 2021 E Wilson Ln, Meridian, Id 83642, 1-800-247-3846 or visit http://www.aireindustrial.net where information, photos and supplemental chemical compatibility charts can be found.
About AIRE Industrial:
Located in Meridian, ID, AIRE Industrial has combined its technical knowledge and manufacturing expertise of flexible textiles to provide liquid containment products and spill prevention solutions for government agencies, military, agriculture, environmental containment, and the wild land fire suppression industries.
The founders of AIRE Industrial are outdoor enthusiasts, protectors of the environment, and take pride in using American sourced materials and keeping jobs local. AIRE Industrial offers a complete line of containment berms, flexible storage tanks and bladders as well as spill kits and containment products. AIRE Industrial has offices in Idaho, Washington, North Dakota, and partners in Europe, Asia, North Africa, New Zealand, The Middle East and South America. AIRE Industrial is a division of AIRE Inc. AIRE Inc. is the largest inflatable boat manufacturer in the U.S.