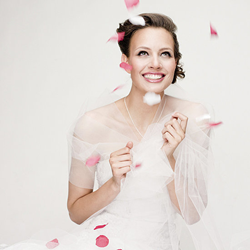 Charlotte, NC (PRWEB) May 21, 2015
June Brides everywhere are busily putting the final touches on their upcoming nuptials. Time is nearly running out to make sure they are ready for their Big Day. Long after the wedding day, memories live on in photos, telling the story of one of the most important days in a couple's lives. Christenbury Eye Center offers these five tips to make sure this day finds brides looking their absolute photo best.
Besides a handsome groom, the perfect dress and veil and a beautiful wedding venue, brides might consider the following beauty services:
Peel and Facial - A good exfoliating facial and peel will leave a bride's skin looking fresh and bright. This service should be performed a few days to a week prior to the wedding, depending on the type of peel, to insure any redness has subsided in time for the wedding. Add a scrub for the arms and décolletage too, especially for a sleeveless, off-the-shoulder and strapless dress.
Eyebrow Shaping - Eyebrow plucking can be tricky. Removing too little or too much can leave a bride's expression looking awkward. Brides can visit a local eyebrow bar or their favorite aesthetician for this service.
Botox - No. Forehead. Wrinkles. Enough said.
Makeup – Using a makeup artist for the Big Day can be a fun way to relax and feel pampered before the walk down the aisle. Brides planning to use a makeup artist to apply the perfect foundation and color should be sure to do a practice run to avoid surprises. Remember to take a few selfies to see how the colors appear in photos.
LASIK Surgery - For brides wearing glasses. . . glasses may cause glare, especially when a flash is used. And a lost contact lens while snorkeling in the Caribbean may ruin a honeymoon. June brides still have time to get rid of them before the Big Day. A LASIK procedure takes less than a week to heal and lets brides spend their wedding day glasses free. Imagine the first kiss without having to worry about the groom bumping into your glasses. Brides want to look their most beautiful ever to make the most of wedding memories and photos.
The services above will help June brides look their best and to make life long dreams come true.
Learn more about Botox treatments and LASIK surgery at Christenbury Eye Center or call us at 877- 702-2020 to schedule a free consultation.
About the Christenbury Eye Center
Dr. Jonathan Christenbury established Christenbury Eye Center in 1987 and is known for his groundbreaking work in vision care. For two decades he has consistently been one of the first surgeons in the Carolinas to perform many pioneering vision care procedures including LASIK, Visian ICL, and ReSTOR.
Dr. Christenbury performed the first LASIK procedure in the Carolinas in the early 1990s and since that time has performed more than 100,000 laser vision correction procedures. He also performed the first all laser IntraLASIK procedure on the East Coast in 2002 and the first WaveFront Customized IntraLASIK in the Carolinas in 2005. In the Spring of 2005, he was the first in the Carolinas to perform the ReSTOR® procedure, which treats Presbyopia and can eliminate reading glasses and bifocals. Today, Dr. Christenbury is the most experienced ReSTOR surgeon in the United States.