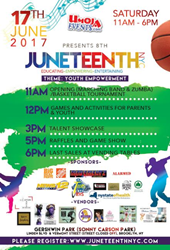 We believe that youth should embrace different trades in life so that while in their prime, they are able to live in their fullest potential. It's my goal that the annual Juneteeth event will support our youth toward tapping into their talents.
Brooklyn, NY (PRWEB) June 14, 2017
Umoja Events to host the 8th annual Juneteenth NYC celebration, focusing on youth empowerment and community building, on June 17th, 2017 at Linden Park in Brooklyn, NY.
With more than 2,000 registered to attend, this year's Juneteenth NYC aims to unite and empower the East Brooklyn community with a dynamic celebration featuring a community talent show, exhibitors, health and wellness screeners, plus a full day roster of entertainment, including performances by DJ Annie Red, Success Academy Prospect Heights Dance Team, Leaders of Tomorrow Step Team, New Explorers Step Team, New Wave Dance Youth and Community Development, Queen Diva and a Magic Show. Confirmed speakers include NYC Comptroller Scott Stringer, Councilmember Inez Barron and Assembly Member Charles Barron.
As this year's Juneteenth theme focuses on youth empowerment, the event will feature an interactive education marketplace that offers resources and support programs for youth entrepreneurship, self-help, goal setting and planning for the future. In keeping with the Juneteenth tradition of promoting unity and building self-esteem through reflection, education and through acknowledgement of achievements, several youth will be honored with awards for their service in their communities.
Juneteenth NYC organizers present the annual celebration in an effort to build the economic and cultural arts scene in underserved communities by creating holistic and dynamic events that present a platform for local talent to showcase their skills and support small businesses. The community event will offer a vendor marketplace featuring craft goods and food vendors, raffles. Fun child-friendly activations like the bouncy castle will be on site in addition to games for the whole family, such as the NYPD climbing wall, Zumba, an FDNY fire smokehouse and a basketball tournament.
"We believe that our youth should embrace different trades in life so that in their prime they are able to live in their fullest potential. If you never experience different talents how can you ever find out what your God given talent is that will bless the world? It's my goal that the annual Juneteeth event will support our youth in tapping into their talents," Athenia Rodney, CEO and Executive Director, Umoja Events.
Juneteenth, also known as "Juneteenth Independence Day" or "Freedom Day", is a holiday that commemorates the June 19, 1865 announcement of the abolition of slavery in Galveston, Texas, and more generally the emancipation of African-American slaves throughout the Confederate South. The state official celebration is generally celebrated on June 19th and is recognized as a state holiday or special day of observance in forty-five states. Juneteenth symbolically serves as a reference point from which to measure and appreciate the progress and contributions made by African-Americans to society. Today, more than 145 years since, African Americans have elevated this celebration, publicly and privately to one of the most important of the year.
The 2017 Juneteenth NYC will be held (rain or shine) at Linden Park, located at Linden Blvd. & Vermont Street, Brooklyn, NY 11207. Activities begin at 11am until 6pm. Admission is FREE and open to the public. To RSVP, visit http://www.JuneteenthNYC.com. Sponsors include NYC Parks Department, Home Depot, T-Mobile, NY State of Health, Movementz Sound Company, High Profile Basketball, Teens Views, George Walker Jr. CBO and DJ Basiq.
To learn more about Umoja Events, visit umojaevents.com. To connect Umoja Events, visit the Umoja Events Facebook page, follow Umoja Events on Twitter @UmojaEvents1 and on Instagram @UmojaEvents1. Follow the online conversation on the track with the hashtag #Juneteenth.
For images, event flyers and other Juneteenth NYC press assets, visit bit.ly/JuneteenthNYC2017. For all Umoja Events booking and business inquiries, please e-mail [email protected]
ABOUT UMOJA EVENTS
Umoja Events is a full service balloon decorating and event planning business. Umoja specializes in customized packages and unique planning resources, including licensed and fully insured DJ's, photographers, video, ministers, clowns, party rentals and more. CEO and Executive Director of Umoja Events LLC, Athenia Rodney, is a corporate and community event planner. Athenia leads a trained event logistics and planning team in organizing and navigates events to educate, entertain, and be a resource for families. The Umoja Events team produces several annual events including Juneteenth NYC, Halloween Fest, Back to School Rally and Christmas Brunch. The team also manages community events such as the Martin Luther King Concert Series, Movie Nights at the Park, galas and vacant lot beautification installments. Rodney's vision is to expand on creating and supporting events in communities of NYC and Georgia that will unite and empower families. To learn more about Umoja Events, visit umojaevents.com.