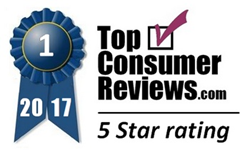 For nearly 30 years, 1-800-GOT-JUNK? has been helping individuals and businesses to 'take out the trash' at affordable prices.
Overland Park, KS (PRWEB) April 28, 2017
TopConsumerReviews.com recently awarded their highest five-star rating to 1-800-GOT-JUNK?, an industry leader in Junk Removal services.
Recently, people have been getting caught up in the decluttering craze, but soon realize they don't have a trash can large enough for all their discards. Other people find themselves caught up in a remodeling project at the home or office that requires some space to be cleared out. In these cases, usually the best option is to hire a junk removal service. An important step in hiring one of these companies is to get an estimate for the work done. Some websites will give you an idea of the anticipated costs, and whether they offer any additional services like cleaning or donating usable items to local non-profit organizations.
"For nearly 30 years, 1-800-GOT-JUNK? has been helping individuals and businesses to 'take out the trash' at affordable prices," explained Brian Dolezal, of TopConsumerReviews.com, LLC. "No matter what kind of junk you've got - old appliances, carpet, construction materials, even regular trash - they'll haul it away and clean up the area afterward. Their process is incredibly easy: just enter your zip code and choose an appointment timeframe on their website. Thirty minutes before your requested slot, they'll call to make sure you're still available and to give you their arrival time. Upon arrival, their representatives will give you the exact price for the junk you need removed. With an A+ rating with the Better Business Bureau as proof of their solid reputation in the industry, it's no surprise that 1-800-GOT-JUNK? earns our highest ranking for Junk Removal services in 2017."
To find out more about 1-800-GOT-JUNK? and other junk removal service providers, including reviews and comparison rankings, please visit the Junk Removal services category of TopConsumerReviews.com at http://www.topconsumerreviews.com/junk-removal/.
About 1-800-GOT-JUNK?
Have you got junk in your life? Millions of people's homes and offices are cluttered with junk and useless items. 1-800-GOT-JUNK? is pioneering an industry that is helping to de-clutter lives. Whether it's an old couch, a pile of junk in the garage, backyard debris or old office furniture, 1-800-GOT-JUNK? will get rid of it for you. Founded in 1989, 1-800-GOT-JUNK? is located in over 2,000 territories across North America.
About TopConsumerReviews.com
TopConsumerReviews.com, LLC is a leading provider of independent reviews and rankings of hundreds of consumer products and services. From Junk Removal to Home Security Systems and Auto Insurance, TopConsumerReviews.com delivers in-depth product evaluations in order to make purchasing decisions easier.