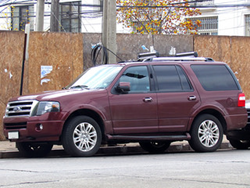 The salvage suppliers in Pittsburgh that have joined our distribution network will be able to fulfill orders placed much faster due to the local delivery options
Pittsburgh, PA (PRWEB) August 14, 2015
Locating and purchasing vehicle components from secondary market suppliers will now be easier for residents of the state of Pennsylvania this year at the GetYourPart.com website. New Pittsburgh junk yards have joined the parts reseller network that is helping to supply used condition inventory online. Details about these new yards can be found at http://getyourpart.com/junk-yards-in-pittsburgh.
The yards that are offering more components at competitive prices are located in various sections of Allegheny County. The junk suppliers that have joined the GYP network are located in areas near North Shore, Banksville, East Liberty, Allentown and Spring Garden. This greater expansion is expected to provide a new outlet for consumers and vehicle mechanics to find older car parts.
"The salvage suppliers in Pittsburgh that have joined our distribution network will be able to fulfill orders placed much faster due to the local delivery options," said a source from the GetYourPart.com company.
The Pittsburgh scrap yards supplying the components are submitting inventory on a daily basis to provide accuracy in stock numbers to consumers who will research the GYP database. Different components will be able to be located by car type or the year a vehicle was manufactured when using the search portal.
"There are literally hundreds of thousands of components that can now be researched using our accurate tools to bridge the gap between suppliers in the automotive components industry," the source included.
The Get Your Part company will continue increasing its relationships with Pennsylvania auto salvage companies for the remainder of this year. More distributors covering different areas of the state are expected to be included within the search database prior to the start of 2016.
About GetYourPart.com
The GetYourPart.com company is now a major resource for consumers to utilize when researching the Internet for previously owned condition automotive parts for sale. The GetYourPart.com company has a fully operational warehouse search tool that is capable of showcasing discounts and current product inventory from the network of company suppliers in the United States.