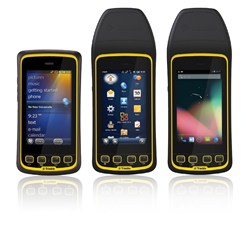 The new Juno T41 models allow customers to mix and match the options to meet their needs.
Chandler, Arizona (PRWEB) July 23, 2013
Group Mobile, well known for carrying the top brands in rugged laptops, rugged tablet PCs, rugged smartphones, and rugged handheld computers has recently extended its product offerings to include new models of Trimble's Juno T41 Rugged Handheld Series. Besides the handheld computer and smartphone configuration, the Juno T41 series now contains high-speed 1D/2D barcode imaging technology and enhanced, real-time 1-2 meter GPS accuracy.
The recent configurations are accompanied by the many abilities already available in Trimble's Juno T41 handheld computer. All models are made to meet military-grade standards of ruggedness for drops, temperature, altitude, humidity extremes, vibration, chemical exposure, and shock with either an IP65 or IP68 rating for water and dust.
"The Juno T41 is truly a workhorse," said Jim Sheldon, general manager of Trimble's Mobile Computing Solutions Division. "We designed it for today's worker who needs a functional field computer that is tougher than any consumer-grade device, while providing easy-to-use features and convenience that people have come to expect."
"Trimble outdoor rugged handhelds have always been very well-liked among our customers because of their outstanding ruggedness and dependability, as well as Trimble's years of experience in outdoor rugged mobile solutions," said Stephanie Kreitner, Marketing Director for Group Mobile. "The new Juno T41 models allow customers to mix and match the options to meet their needs."
The Juno T41 "X", "C", and "M" Handheld Computer and Smartphone
All Juno T41 handheld computers have a 1GHz processor and 512MB RAM with either Android 4.1 or Microsoft WEHH 6.5 operating systems. Some of the other standard features include an 8MP integrated camera, multi-touch capacitive 4.3" sunlight-readable display and 9-pin serial and USB adaptor ports, all-day battery life and 2-4 meter GPS accuracy capability.
The Juno T41 X configuration is planned to replace Bring Your Own Device (BYOD) smartphones with SMS text and 3.75 cellular data transfer capabilities on GSM networks worldwide. The C and M devices are designed to offer all the basic rugged handheld performance users expect from the Juno T41, without the smartphone capability ("C") or radios ("M").
The Juno T41 "S" New High-Speed 1D/2D Barcode Imager
Trimble Scan technology in the Juno T41 S reads an array of traditional 1D barcodes as well as 2D matrix codes, plus captures signatures and images. These features are customizable using the Trimble "Scan Agent" application. Enterprises can also use the Software Development Kit (SDK) to optimize applications to meet particular customer needs. Omni-directional reading capabilities along with high-motion tolerance allow for fast, accurate scanning from almost any angle or orientation from the handheld to the barcodes.
The Juno T41 "G" New Real-Time Enhanced GPS Accuracy
The Juno T41 G configuration supports enhanced, 1-2 meter GPS acquisition capability and it can be combined with other Juno T41 configurations including the smartphone or the 1D/2D Imager to increase real-time positioning accuracy.
The Juno T41 G backs the GPS L1 band and offers consistent performance in low signal environments. For the workers who are constantly on the go collecting remote assets, time won't be wasted waiting for a system warm-up. The Juno T41 G tests at an average cold start of less than 38 seconds, and a warm start of less than 6 seconds. The G configuration handheld accumulates data in real-time at 1-2 meter accuracy, while also capturing Raw Data Output for post-processing applications. The Juno T41 G is designed to work with Satellite Based Augmentation Systems (SBAS), third-party Real-Time Networks (RTN) and corrections services from Trimble.
Real-World Flexibility to Meet Business Needs
Currently the Juno T41 rugged handheld series has a configuration that can meet a wide variety of business needs in a single rugged device.
Users can mix and match the capabilities to create the Juno T41 that is right for their specific business needs by combining the smartphone with barcode imaging and/or adding enhanced GPS.
In addition to the Juno T41, Group Mobile is also carrying Trimble's Nomad, Ranger and Recon rugged handhelds, and the Yuma 2 rugged tablet. To learn more and order the Trimble Juno T41, visit http://www.groupmobile.com/buy.asp/sku=6156.
About Group Mobile
Headquartered in Phoenix, AZ, Group Mobile serves customers all over North America. Customers range from Fortune 500 companies and the U.S. Military, to local police/fire/ambulance, to small and mid-size businesses, to the frequent traveler that needs something more durable than a commercial, off-the-shelf computer. Group Mobile carries all the leading rugged computing brands. In addition, Group Mobile offers vehicle docking and mounting equipment from Gamber Johnson, Ram Mounts, Jotto Desk, and Havis/Ledco. To learn more about rugged computers and how they differ from commercial, indoor computers, check out the Rugged Computer Guide or visit us online at http://www.groupmobile.com.
About Trimble's Mobile Computing Solutions Division
Trimble's Mobile Computing Solutions Division offers innovative products that enable mobile workers to be more efficient in extreme outdoor and industrial environments. The Juno T41, Yuma® 2, Ranger™, and Nomad® outdoor rugged handheld computers help users collect accurate field data and work more productively in any outdoor or service-related application. Trimble's handheld computers meet MIL-STD-810F/810G military specifications for drops, vibration, immersion and temperature extremes, and with IP65 to IP68 ratings, are sealed against water and dust. To learn more, visit: http://www.trimble.com/rugged.
About Trimble
Trimble applies technology to make field and mobile workers in businesses and government significantly more productive. Solutions are focused on applications requiring position or location — including surveying, construction, agriculture, fleet and asset management, public safety and mapping. In addition to utilizing positioning technologies, such as GPS, lasers and optics, Trimble solutions may include software content specific to the needs of the user. Wireless technologies are utilized to deliver the solution to the user and to ensure a tight coupling of the field and the back office. Founded in 1978, Trimble is headquartered in Sunnyvale, Calif.