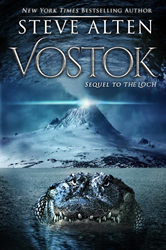 Fans will be thrilled with the launch of these long awaited, creature-feature entertainment releases.
(PRWEB) December 16, 2014
When the trailer for Jurassic World was released over Thanksgiving weekend, fans of the Jurassic Park franchise took to the Internet to express excitement, glee, and a great deal of personal investment in the new film. While some expressed confusion or concern, one thing is certain: fans new and old alike can't wait for its release. Produced by Steven Spielberg and starring Chris Pratt, whose turn in Guardians of the Galaxy has made him one of 2014's hottest movie stars, Jurassic World is sure to be one of 2015 biggest blockbusters.
Dinosaurs fascinate us; with each new fossil that is uncovered, we learn more about the history of our planet. It's difficult to imagine these ancient, colossal creatures in our world today, or how we would respond to being around them. This, along with their action-packed nature, is a huge part of why fans find the Jurassic Park franchise so thrilling. These are also the reasons why readers are so drawn to the work of Steve Alten, who writes heart-stopping tales that often center on larger-than-life creatures.
Steve Alten is a New York Times bestselling author of a number of thrilling, internationally acclaimed titles. Alten's first release of the year, Vostok, is a highly anticipated crossover between his wildly successful Meg series, and his novel The Loch is set for a late January launch. This novel will incorporate storylines, characters, and—best of all—creatures from both the series, and the book. Then, the much-anticipated Meg 5: Nightstalkers will be released in the summer. Both novels are set to launch through Rebel Press, the fiction imprint of Next Century Publishing. With nearly twenty years as a beloved author under his belt, Alten continues to produce electrifying fan favorites full of incredible and fearsome creatures. Between his upcoming releases and Jurassic World, fans of these exciting stories will love 2015.
Steve Alten
Steve Alten grew up in Philadelphia, earning his Bachelors degree in Physical Education at Penn State University, a Masters Degree in Sports Medicine from the University of Delaware, and a Doctorate of Education at Temple University. Struggling to support his family of five, he decided to pen a novel he had been thinking about for years. Working late nights and on weekends, he eventually finished MEG; A Novel of Deep Terror and sold his car to pay for editing fees. On September (Friday) the 13th, 1996, Steve lost his general manager's job at a wholesale meat plant. Four days later his agent had a two-book, seven-figure deal with Bantam Doubleday; his career as an author has since continued to flourish.
For more information on Steve Alten and his novels visit - http://www.stevealten.com/