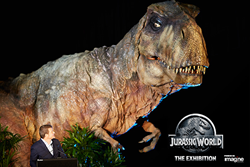 "There is no other dinosaur brand in the world that comes close to Universal Pictures' Jurassic World franchise," said Tom Zaller, President & CEO of Imagine Exhibitions.
Atlanta, GA (PRWEB) November 30, 2015
Imagine Exhibitions and Universal Partnerships & Licensing today announced a new globally touring exhibition Jurassic World: The Exhibition, opening in March 2016 at Melbourne Museum in Melbourne, Australia. Immediately following the Australia premiere, the Exhibition will embark on a worldwide tour including several North American tour dates. The Exhibition is based on Universal Pictures' Jurassic World, one of the biggest blockbusters in cinema history.
A unique, immersive Exhibition experience, Jurassic World: The Exhibition allows guests to get closer to dinosaurs than ever before. The Exhibition features encounters with realistic, life-size animatronic dinosaurs set in highly themed environments inspired by the film. Paleontologist Jack Horner, who served as a Paleontological Advisor on the Jurassic World film, is also working with the Exhibition to infuse it with interactive educational elements, allowing guests of all ages to learn more about these incredible prehistoric creatures.
The dinosaurs are being developed by Creature Technology Company, renowned for producing the world's most technologically sophisticated and realistic animatronics for arena spectaculars and stage shows, including those featured in the worldwide hit Walking with Dinosaurs. By seamlessly blending immersive education with theatrical settings, the Exhibition represents the next generation of museum presentations.
"There is no other dinosaur brand in the world that comes close to Universal Pictures' Jurassic World franchise," said Tom Zaller, President & CEO of Imagine Exhibitions. "Combining the franchise with Creature Technology's dinosaurs and our immersive design and interaction will, without doubt, be the closest fans will ever come to seeing a dinosaur. We are thrilled that Universal Partnerships & Licensing has entrusted Imagine Exhibitions to deliver the Jurassic World: The Exhibition experience."
"This promises to be a touring exhibition unlike any before it, bringing together players who are the absolute best in their fields," said Vince Klaseus, President, Brand Development, NBCUniversal. "Combining Imagine Exhibitions' expertise in the design and implementation of global traveling exhibitions with the state-of-the-art animatronics provided by Creature Technology Company, and our team's brand stewardship and creative thinking, Jurassic World: The Exhibition will deliver a ground-breaking and awe-inspiring guest experience. We are delighted to be launching this Exhibition as an extension of the Jurassic World franchise."
"Whenever people have visited the Creature Technology Company workshop or come backstage at an arena show, they marvel at how lifelike our dinosaurs and other creatures look up close," said Sonny Tilders, Creative Director of Creature Technology Company. "Now visitors to Jurassic World: The Exhibition will get an unprecedented opportunity to be in close proximity to the most amazing creatures to have ever roamed the earth."
Jurassic World is currently available on Blu-ray, DVD and Digital around the globe.
About the Jurassic World Franchise
In 2015, Universal Pictures' Jurassic World became one of the biggest blockbusters in cinema history, grossing more than $1.67 billion at the global box office on its way to becoming the third-highest-grossing film of all time.
In 2018, executive producer Steven Spielberg and stars Chris Pratt and Bryce Dallas Howard return for Universal Pictures and Amblin Entertainment's Jurassic World Sequel. Producer Frank Marshall once again joins Spielberg in leading the team of filmmakers for the next chapter in the franchise. The film will be written by Jurassic World's director, Colin Trevorrow, and Derek Connolly. Spielberg will be joined by Trevorrow as executive producer.
About Imagine Exhibitions
Imagine Exhibitions is the global resource for all aspects of exhibitions and attractions. From design to creation, placement to presentation, marketing and operations, Imagine has the experience and inspiration to bring the best possible experience to any venue. Imagine is currently producing and touring over 25 exhibitions in museums, science centers, aquariums, integrated resort properties and non-traditional venues throughout the world. For more information, visit http://www.imagineexhibitions.com or visit the Facebook page.
About Creature Technology Company
Creature Technology Company is most famous for having produced the amazing dinosaurs for the incredibly successful Walking with Dinosaurs –The Arena Spectacular that set the benchmark for large-scale animatronic live entertainment. The benchmark was then set even higher with How to Train Your Dragon – Live Spectacular for DreamWorks, before creating the iconic puppets King Kong for the dazzling Global Creatures stage show and a talking, 7.5m tall animatronic Statue of Liberty for the annual Rockettes New York Spectacular at the world famous Radio City Music Hall. The three remarkable mascots for the XXII Olympic Winter Games Opening and Closing Ceremonies in Sochi were witnessed by billions and demonstrated a whole new capability of the company on a global stage.
Founded in 2006 and working out of a non-descript factory in Melbourne Australia, Creature Technology Company is producing the most technologically sophisticated, creatively inspired and life-like animatronic creatures for exhibitions, arena spectaculars, theme parks, stage shows and events in the world. Visit Creature Technology or find us on Facebook.
About Universal Partnerships & Licensing
Universal Partnerships & Licensing (UP&L) oversees NBCUniversal's consumer product and digital licensing for Universal Pictures, NBC Television, Focus Features and Sprout Channel. This dedicated division is also responsible for film, home entertainment and television promotions. UP&L is part of NBCUniversal. NBCUniversal is one of the world's leading media and entertainment companies in the development, production, and marketing of entertainment, news, and information to a global audience. NBCUniversal owns and operates a valuable portfolio of news and entertainment television networks, a premier motion picture company, significant television production operations, a leading television stations group, world-renowned theme parks, and a suite of leading Internet-based businesses. NBCUniversal is a subsidiary of Comcast Corporation.