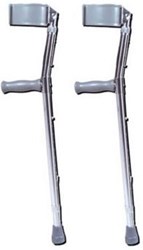 We're looking forward to receiving the applications and seeing what students come up with.
Fulton, MD (PRWEB) November 05, 2013
Limited mobility can be a major challenge in college. Though federal law requires all higher education programs to be physically accessible, the attitudes of teachers and the academic culture in general can be barriers to learning. Plus, most disabled students have lower incomes than their able-bodied peers. That's why JustWalkers.com started the $1,000 JustWalkers Mobility Scholarship open to any undergraduate or graduate student with limited mobility who regularly uses a wheelchair, power scooter, crutches, rollator, or other mobility device on a regular basis.
The scholarship was designed both to give back to the disability community, and also increase brand awareness among youth. "Most of the visitors to our site are either elderly people shopping for themselves, or younger adults shopping for their elderly parents," said JustWalkers CEO and pharmacist Bryan Mercer. "But we carry a lot of products such as forearm crutches and wheelchairs that are useful to young people with limited mobility as well. Hopefully, more will learn about our site through the scholarship."
Students must have a minimum 3.0 GPA and be a legal US resident or have a valid student visa in order to qualify. To apply, students write a 600 word maximum essay on the prompt "Describe a time when you faced a major obstacle. What did you do and what did the experience teach you?" Essays will be read by a committee and the winner selected based on merit and creativity. Applications are due on June 30, 2014 and the winner will be announced on July 31, 2014.
"We're looking forward to receiving the applications and seeing what students come up with," said Mercer. "Good luck to everyone out there!"
About JustWalkers.com
Just Walkers provides premium walking aids throughout the United States for people of all ages looking for the best mobility products at the lowest price. They understand the importance of choosing the perfect mobility device to fit your needs. With this in mind, they offer only the best products, parts, and accessories including detailed information about each product and numerous user reviews to help you with your decision. They are proud to serve those who seek information and assistance in determining which walking aid works best for them. With a wide assortment of walking aids at affordable prices, JustWalkers.com is determined to make your shopping experience worthwhile.