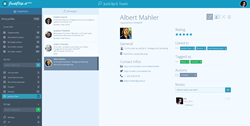 You organize your music with playlists. We do the same with people.
Miami, FL (PRWEB) April 09, 2014
Music lovers organize their favorite tracks with playlists. Newly launched service JustClip.it aims to do the same with people. This innovative web based service helps its users build lists of contacts and people from social networks, as easily as on an iPod.
Do people really know who matters in their network?
It is impossible when they have hundreds, sometimes thousands of connections. They end up managing spreadsheets. The problem is that spreadsheets are designed for numbers, not people. Spreadsheets are irritating and time consuming.
JustClip.it is a breakthrough productivity tool. It innovates with its unique technology and positioning:

Ultra easy to use interface
Import connections from Linkedin, Facebook, Twitter and Google+
Capture and save any social network profile in 1 click with an exclusive Google Chrome extension
Build lists of individuals by a very simple drag and drop action
Extremely powerful search engine to explore connections and contacts data
Export lists to CRM, HR, Mailing or any other corporate applications
JustClip.it is a free to use service for basic accounts. Specific Enterprise Account plans and premium services will be introduced later this year to serve an ever expanding B2B market. JustClip.it specifically targets recruiters, business developers and marketers who rely on social networks to grow their business.
Founded by 4 international experienced executives based in the US and in Europe, the JustClip.it team is obsessed with helping busy professionals leverage their network. The team has been finalist of several high profile start-up competitions and won awards with previous projects.
In June 2014, JustClip.it is set to launch Enterprise Accounts to provide a collaborative work space. Users will be able to manage and share lists between colleagues. They will also be able to rate, tag and follow-up any given profile.
Contacts:
For the U.S: Albert Mahler – Cofounder: albert.mahler(at)justclip(dot)it Tel: +1 305 846 05 60
For Europe: Fred Ducrot – Cofounder: fred.ducrot(at)justclip(dot)it Tel: +33 620 989 906
Full cofounder's bio can be accessed here: http://justclip.it/about
Press pack:
A press pack can be downloaded here.