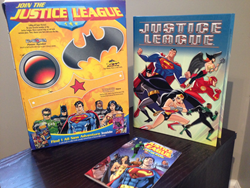 Children especially boys need to see themselves reflected in what they read such as action packed super hero adventures.
Monroe, New York (PRWEB) March 25, 2014
KD Novelties, specializing and publishing in personalized children's books, is teaming up with the Justice League. In conjunction with General Mills' new giveaway, KD Novelties is giving away free copies of their personalized Justice League children's book. General Mills is currently giving away collectible comic books and crime-fighting gear on specially marked boxes of their cereal, and KD Novelties with their Justice League personalized book, can help make the experience all the more unique and immersive for kids who are superhero fans.
Kids can gather their crime-fighting gear from the cereal boxes, provided by the new General Mills's promotion, and hunker down with their personalized super hero book from KD Novelties to fight crime and deal out justice. This individualized story puts kids in the center of the action so they can save the day. Kids can immerse themselves in the story where they help out the Justice League with grappling the dastardly Gorilla Grodd who has let all the wild animals zoo loose at the theme park. Ready for action, kids will be able to help the Justice League, bring the animals and everyone at the park to safety, ultimately saving the day.
"Children especially boys need to see themselves reflected in what they read, they hunger after action-packed adventures featuring superheroes, sports, and dinosaurs and they definitely prefer non-fiction," says Kim Delgado spokesperson for KD Novelties. By offering their Justice League personalized book they are providing children the opportunity to become the stars of their very own story, building their self-esteem and self-image.
To enter for a chance to win a personalized Justice League book for the super hero fans out there, click here. Giveaway ends March 29, 2014.
KD Novelties has been publishing personalized children's books for over 10 years and their mission is to promote literacy in children by providing a unique reading experience. Their goal is to get kids to read and love it.