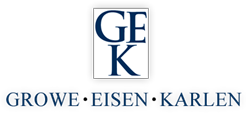 The seminar was developed to provide attorneys with the tools they need to keep up with the rapidly growing and changing subject of discovery in divorce.
St. Louis, MO (PRWEB) October 28, 2014
Growe Eisen Karlen is pleased to announce that a partner at their firm, Justin Ruth, has been invited to speak at a prestigious seminar this month, hosted by the National Business Institute. The seminar will be targeted towards attorneys and business professionals in the divorce industry, and will contain valuable insights into the ever-changing environment of divorce law. Ruth has years of experience in the area of family/domestic law, and will be contributing his expertise on the most recent standards for discovery procedure, model letters, and motions.
The seminar was developed to provide attorneys with the tools they need to keep up with the rapidly growing and changing subject of discovery in divorce. Attendees will receive a comprehensive divorce evidence guide, and advice from industry experts on how to obtain and use every shred of evidence in custody, support and asset division cases. Ruth is joining a panel of two other speakers, and together they will help prepare legal professionals and attorneys to find new and effective ways to introduce evidence into testimony, to avoid and defend against abusive discovery practices, and to distinguish between ethical and unethical methods. The seminar is taking place 10:00 am to 5:00 pm Eastern Time.
A spokesperson for Growe Eisen Karlen stated, "The partners at Growe Eisen Karlen have a broad area of expertise, and it has proven to be a huge benefit for our clients to have access to attorneys with those different backgrounds and experiences. Justin Ruth will be providing some innovative and creative ideas at this seminar that will help attendees keep a fresh perspective as they work on their divorce cases. Ongoing education is so important, and something we really value at our firm."
The founding of Growe Eisen Karlen in 2009 brought together experienced trial lawyers, recognized for their passion and skill in representing clients in complex civil litigation, including injury lawyers and employment lawyers. The firm features attorneys with a unique blend of abilities in all areas of civil litigation and trial work. The firm is widely respected for the depth of its family law practice, led by senior partners Richard Eisen and Chris Karlen, where eight lawyers devote full time to serving clients in this area.
For more information or to schedule a free case analysis, please visit http://gatewaylawyers.com.
About Growe Eisen Karlen:
At Growe Eisen Karlen in St. Louis, Missouri, we have created a relaxed, productive environment in which you can freely discuss your case. Our clients value the comfortable setting our office provides for them. Yet, with many cases such as auto accidents or criminal cases, clients are unable to leave their homes or hospital beds to come to our office. Our car accident lawyers regularly visit clients at their locations in order to better accommodate them and address their needs.
To find out more about our services, contact Growe Eisen Karlen today and schedule a free case analysis.