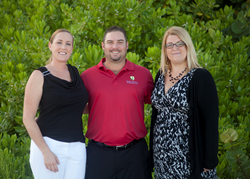 Our goal is to provide our clients with the highest in customer satisfaction
Marco Island, FL (PRWEB) March 21, 2016
Five Star Professional is pleased to announce Justin Hanna, Integrity Insurance International Inc., has, yet again, been chosen as one of Southwest Florida's Five Star Home and Auto Insurance Professionals for 2016. This will be his 6th year in a row (2011-2016).
Five Star Professional partnered with Gulfshore Life magazine to recognize a select group of Southwest Florida-area home and auto insurance professionals who provide quality services to their clients. Less than 3 percent in the area were selected. Justin is featured, along with other award winners, in a special section of the May issue.
"As a family-owned business since 2007, Integrity Insurance International, Inc. has been servicing the insurance needs of Southwest Florida clients who expect a higher level of service from their insurance agent," says Justin Hanna of Integrity insurance International, Inc. "Our goal is to provide our clients with the highest in customer satisfaction by providing experience, knowledge, and insurance to meet their needs for today and tomorrow. We look forward to speaking with you and assisting you with your insurance needs."
The Five Star Home and Auto Insurance Professional award program is conducted in more than 30 markets throughout North America. Home and auto insurance professionals are measured using an objective, in-depth research methodology with significant focus on customer feedback and overall satisfaction.
"This award means we're doing business the right way, and we have been for a long time. We are thankful and appreciate all our great clients," says Justin.
"Five Star Home and Auto Insurance Professionals are more than knowledgeable experts in their field. They maintain a sharp focus on building enduring relationships and demonstrate tremendous dedication to the families and individuals they serve," says Lynn Hargreaves, VP, Research and Services Operations, Five Star Professional.
Five Star Professional has been conducting market research to define and promote professional excellence in service professionals since 2003.
Home and auto insurance professionals are awarded based on an in depth research process. Thousands of consumers are contacted to rate their home and auto insurance professional on evaluative criteria including customer service, integrity, communication and overall satisfaction. Beyond a qualifying client evaluation score, professionals are evaluated on objective criteria such as experience, production levels and disciplinary and complaint history.
There is no fee to be considered or awarded. Visit http://www.fivestarprofessional.com for more information.