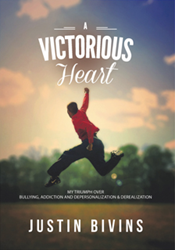 KENNESAW, Ga. (PRWEB) June 30, 2015
At times in his life, author Justin Bivins felt like he was watching his life from outside his body. He was anxious; his skin felt like rubber. His mind raced and he wondered if he was losing his mind. It wasn't until several years after his first out-of-body experience that Bivins learned he had depersonalization-derealization disorder (DDD).
In his new memoir, "A Victorious Heart: My Triumph Over Bullying, Addiction and Depersonalization & Derealization" (published by Lulu), Bivins shares the story of how he was diagnosed with DDD and how his faith in Jesus Christ helped him overcome it and several other afflictions.
Before being diagnosed with DDD, Bivins dealt with a number of other addictions and worries. As a child, he was often bullied and questioned his sexuality. He also developed an addiction to pornography. It was only after his diagnosis that he was able to get the help he needed, while leaning on his faith for support.
In addition to Bivins' memories, his mother, Michelle Bivins-Williamson, added her own journal entries to the book to provide a rounded perspective of Bivins' experiences. Her thoughts portray a mother's love and illustrate the high emotions present during this time.
"I want the readers to finish the book and be able to take on a new sense of strength," Bivins says. "I also want readers to come to know Jesus. Once they see what he has done for me and how he transformed my life, it will resonate in their hearts to want to know 'the One who saves.'"
"A Victorious Heart"
By Justin Bivins
Softcover | 5.83 x 8.26 in | 144 pages | ISBN 9781483431314
E-Book | 144 pages | ISBN 9781483431307
About the Author
Justin Bivins is a ministry school graduate at Bethel Atlanta, as well as a student of the arts. His talent for acting was discovered at an early age, a skill he began working on as a teenager. He continues to pursue his passions on-screen through acting and off-screen as an author and motivational speaker, inspiring others to be victorious. More information is available at http://www.avictoriousheart.com.
Lulu empowers people of all ages to explore and express their interests, passions and expertise through books, photography and art. Since introducing self-publishing in 2002, Lulu has empowered creators in more than 225 countries and territories to produce nearly two million publications. Lulu Jr. allows children to become published authors, encouraging creativity, strengthening literacy and building self-esteem. Picture.com offers professional photography of collegiate and professional sports, memorable and historic events, fine art and home décor. For more information, please visit http://www.lulu.com.