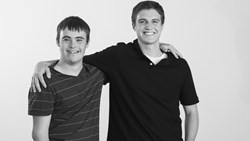 'Just Like You-Down Syndrome uses the voices and faces of people with and without Down syndrome to beautifully express the philosophy that the Special Olympics shares...' -Tim Shriver, Chairman Special Olympics
Chicago, Illinois (PRWEB) November 17, 2013
WHERE : TheWIT Hotel
201 North State Street
(The Dickinson Room and SCREEN)
Ph:312.239.9517
WHEN: Thursday, December 12, 2013
6:00 Press check-in
6:30-9:00 - Red Carpet Cocktail Reception--Dickinson Room
7:00 Screenings begin (7:00 JLY-Cancer, 7:30 JLY-Burns, 8:00 JLY-Down Syndrome)
8:15 Chicago JLY stars arrive and Question and Answer Session
CELEBRITIES: TBA*
PRESENTED BY: Just Like You Films in cooperation with The Down Syndrome Guild of Greater Kansas City, (Executive Producer), TASH, National Association for Down Syndrome, Autism Society of Illinois, Funding Futures Chicago, Gilda's Club Chicago
FOR MORE INFORMATION:
Just Like You Films, Public Relations | Jen Greenstreet | 816.260.3187 | jen(at)jlyfilms(dot)org
TASH, Advocacy Communications Manager | Jonathan A. Riethmaier | (202) 540-8014 | jriethmaier(at)tash(dot)org
All Press Must Be Accredited to Cover the Event
*Subject to availability
Additional Media Links:
Eventbrite Invitation
TASH website
KCTV 5 Feature Story - Just Like You Films
Teens Wanna Know - Down Syndrome Hollywood Premiere
KC Live InterviewFox 4 News Coverage of film premiere
She Knows Parenting Blog
For sponsorship information, contact: Just Like You Films Public Relations
Jen Greenstreet | 816.260.3187 |jengreenstreet(at)justlikeyoufilms(dot)com TASH Advocacy Communications Manager Jonathan A. Riethmaier | (202) 540-8014 | jriethmaier(at)tash(dot)org
Founded in 2003, Just Like You Films (JLY) produces child-friendly entertaining documentary-style films which introduce children who have a wonderful personal story to share. Kids living with severe burns, Down syndrome and cancer. The kids tell the story of how, despite any circumstance, we are all more alike than we are different. The films offer an uplifting environment of acceptance which helps facilitate the physical and emotional healing of all children.
JLY founder, Jen Greenstreet, left her law practice to dedicate herself to helping children connect through film. With the assistance of Emmy Award-winning cinematographer, Isaac Alongi, JLY helps people worldwide get to know, understand and accept through their three documentary-style films starring children with severe burns, cancer and Down syndrome. Just Like You-Autism will be released in 2014. As a mother and professional, Jen hopes these films to help raise the world's first generation of children who, through education, honesty and familiarity, grow up to be more compassionate human beings. She sees the films as a first step in developing their understanding that people are more alike than different.
With the support of the community, JLY can continue to provide their films - Burns, Cancer and Down syndrome (in Spanish and Portuguese) free of charge to hospitals, schools and community organizations worldwide.  That support will also help further their current production of JLY-Autism.  And, it will help JLY meet the requests they have received to translate current films into Russian, Thai, Greek, Polish, Bulgarian, Mongolian and Japanese.  It will allow JLY to answer the need expressed by many for more JLY films on subjects like Visual Impairment, Diabetes, Asthma, Divorce, Tourettes syndrome, Muscular Distrophy, Foster Care, Cerebral Palsy, Food Allergies, Spinal Muscular Atrophy, LGBT and so many more. 
Most importantly, it will enable JLY Films to continue to spread the idea that whatever the circumstance, everyone is "just like you."