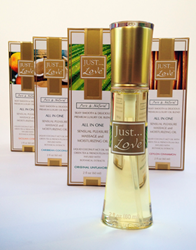 "JUST Love addresses the need in the market for women to have a healthy, natural choice in feminine moisturizers and lubrication," Dr Michael Krychman, SCCHSM
Newport Beach, California (PRWEB) March 20, 2015
Natural body care manufacturer, Just Pure Essentials, debuted at the 2015 Natural Products Expo West on March 8th its exciting new product line called JUST Love; a skin nourishing, entirely natural, 'All In One' sensual pleasure, massage and moisturizing oil that bridges the gap between sexual wellness and women's health. JUST Love eliminates the need for purchasing multiple products as it can be used for both lubrication and moisturizing. JUST Love's beautiful and discreet packaging crosses over between the medical, health and beauty sectors, making it comfortable for women to purchase in public retail locations. JUST Love can already be found in select health food stores and doctors offices around the country, web stores and the company website http://www.justpureessentials.com.
Just Pure Essentials, a Newport Beach, California based body care manufacturing company, has positioned itself at the forefront of the all natural sexual health and women's health sectors with the recent launch of its brand JUST Love. Just Pure Essentials prides itself on the fact that it only uses specially selected 100% pure and natural, premium and organic ingredients in all of its formulas. The company holds true to its standards by upholding its company motto 'Truly Good for You Inside and Out' which ensures that they produce only premium quality products that consumers can trust.
JUST Love's unprecedented proprietary formula is based in premium Coconut MCT Oil, infused with skin soothing herbs and blended with other organic plant based oils all known for their moisturizing, skin healing, anti-inflammatory and anti-oxidant properties. Coconut MCT oil, the 100% pure medium chain triglycerides extracted from virgin coconut oil, is heralded for its myriad of uses and health benefits including skin healing, anti-Candida, anti-bacterial, fat burning, immune supporting and moisturizing properties. MCT oil is a good cholesterol, is heart and artery healthy and because of its small molecular size, can penetrate cell walls to be burned by the body for energy. MCT oil makes an ideal base for the JUST Love line along with its other skin loving oils like Argan, Shea and Green Tea, as it has superb, long lasting slip and glide that enhances the sensations of touch. JUST Love is light and silky, won't dry up and turn sticky like other oils and lubricants and is an excellent skin moisturizer. Because JUST Love has an incredibly natural feel, is completely edible and does not need to be washed off after use, it can be used in a multitude of ways for both personal and intimate purposes.
"We spent almost two years in research and development, consulting with the country's top professionals in the cosmetic chemistry, medical, women's health and sexual health and wellness fields. We were extremely focused on producing the finest natural product available that has no contraindications even for pregnant or breastfeeding women. We didn't stop formulating until we achieved an exceptional formula that performs, smells, tastes and feels fantastic and has added benefits to both skin and body. It is important to us that we are instrumental in bettering women's health and relationships in a 100% natural and healthy way and JUST Love achieves this," says Laura Stearn, CEO and co-founder of Just Pure Essentials.
Being a premium 'All In One' product, JUST Love has been created specifically for sensitive and delicate skin. Due to its exceptionally natural, non greasy, non sticky feel and skin nourishing properties, JUST Love is also wonderful for women's health concerns as it is an excellent feminine moisturizer used in daily hygiene to help alleviate dry and irritated skin. It is now known that 44% of women around the age of 45 start to experience the discomfort of vaginal dryness due to a natural hormonal shift in the body that occurs during perimenopause and menopause, as well as from other physical and sexual health factors and or medications. That percent goes up dramatically per year to 70% of women over sixty years of age.
"JUST Love addresses the need in the market for women to have a healthy, natural choice in feminine moisturizers and lubrication. It's natural feel and fresh delicate scents make it a pleasant choice," comments Dr Michael Krychman Executive Director of The Southern California Center for Sexual Health and Survivorship Medicine.
Laura Stearn adds in, "We also chose to design our packaging and market our product with a warm and confident appeal, not wanting it to be cold and clinical like most other intimate products. We want women to feel good about using our product and definitely enjoy the pleasure of being able to have fun with it in the bedroom- that's really the best part! JUST Love is all about health, happiness and healthy relationships."
To add to the enjoyment, JUST Love also comes in three flavored options besides its Original Unflavored version that are inspired by exotic vacations: Caribbean Coconut, Ceylon Cinnamon and Sicilian Citrus. All flavors use only organic natural fruit flavors that have a naturally sweet taste and scent without any added sweeteners or perfumes, making foreplay and massage even that much more fun and enjoyable.
JUST Love is very likely the most versatile body care product one can have in the vanity cabinet. The inherent properties of the formula's ingredients naturally clean the skin as they moisturize, and so, can also be used for body and face, removing makeup and debris. Just Pure Essentials has already been approached to expand the line to include other all natural body and facial care products and has plans to do so in the near future.
Appealing to women of all ages with various feminine needs, the Just Pure Essentials JUST Love brand is already making waves simultaneously in both the Natural Product and Sexual Health industries. With elegant and discreet packaging that looks like a pretty gift box, the JUST Love body care line is proving to be as welcome on a natural grocer's shelf as it is in a doctor's office and offers women the freedom and a healthy choice for her women's health and sexual health needs in just one product. JUST Love is already in nationwide distribution with KeHE Distributors, LLC and can be found in select health food stores, doctors' offices and on-line. For more information and a list of retailers and e-tailers go to http://www.justpureessentials.com.
Just Pure Essentials is a 100% woman owned company based in Newport Beach, California that manufactures all natural plant based body care products including the JUST Love brand. A portion of all JUST Love's proceeds are donated to bettering women's health, services and education through its two charitable programs; 'Love Doesn't Hurt' and 'Spread the Love'.
Editor's note: To schedule an interview with Laura Stearn, CEO of Just Pure Essentials, or to learn more about the JUST Love product line, contact Mike Wieters at Just Pure Essentials (888) 449-5326 or mw(at)justpureessentials(dot)com
*Photos of the products, company founders and samples are available upon request.