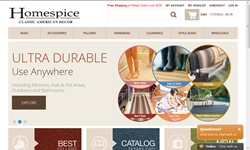 Braided rugs can bring charm and character to almost any home.
(PRWEB) March 26, 2015
Homespice Décor keeps incorporating new items to keep up with the changing trends. The new Texas Brown rug joins their well-known braided jute product line. Homespice Decor is one of the leading home decor product lines in the U.S. Their products are carried by approximately 2,200 dealers throughout the U.S., Canada and selected dealers in Central America and the Caribbean. These dealers range from traditional gift, furniture, home decor, hardware and patio stores to design studios and galleries.
One of the executives said, "Braided rugs can bring charm and character to almost any home. The blend of two-tone braided borders and appliqued stars on these Texas Brown jute braided rugs create a simply elegant vintage look. Made of natural fiber, these jute rugs are very soft and durable. The stars on the rug are cut out of wool felt and appliqued individually onto the rug with a sewing machine. The dark-colored stripes are mixed with the braid to create a visual pop that adds to the grace of the rug."
The rug is available in 7 rectangular sizes ranging from 20"x30" to 8'x10'. The 4'x6' size retails for $249.
Braided rugs are made from strips of particular material that are braided together to form a beautiful and very durable home rug. These rugs come in a wide range of colors that can complement any home decor. Traditionally, this type of rug is oval-shaped, but nowadays are available in various shape options. Braided rugs are very attractive and provide a graceful warmth to home decor. While braided jute rugs are attractive, they are highly durable as well, and withstand the rigors of time and daily use. Their braids hold together for a longer period of time and are reversible, giving the homeowner many years of use and enjoyment.
The executive further added, "Homespice Decor is a home decor product manufacturer and online store where we carry leading quality braided rugs and accessories. We keep adding new items to match the latest trends. Our wide range includes braided rugs, hooked rugs, outdoor rugs, penny rugs, tabletop accessories, stair treads, chair pads, rug pads, pillows and handbags."
Homespice Decor is one of the leading home decor product line with six customer satisfaction awards to their credit. Satisfied customers is their utmost goal. Apart from Wide Variety of Braided Rugs, they also carry handbags, pillows and hooked rugs etc. Their range is attention-grabbing.
About Homespice Decor:-
Their family-owned business was founded in 1998 by Junior Gupta. Evolving with time, in 2008 they created Green World braided jute rugs and accessories. They carry Wide Variety of Penny Rugs, braided rugs and rugs pads, etc. Apart from these, they also carry pillows, handbags, hooked rugs, outdoor rugs, Hand-Hooked Area Rugs and more.
Contact Information:
Homespice Decor
2595 Mountain Industrial Blvd,
Suite 4 Tucker, GA 30084
Email: sales(at)homespicedecor(dot)com
P: 770-934-4224
F: 770-934-8887
###