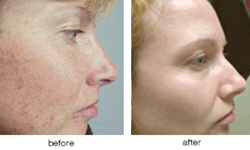 Sugar Land, TX (PRWEB) March 24, 2014
A new package deal on Intense Pulse Light (IPL) photo facials is now available at Kalologie Med Spa. Right now, customers can try their first photo facial for just $99. They can also purchase a package of four treatments, for optimal results, at 40 percent off.
Photo facials using IPL technology are designed to rejuvenate the skin. They are also one of the most effective options for tackling hyper-pigmentation. Following an IPL treatment, spots will initially appear darker, and then naturally slough off over approximately one week. The end result is skin that appears smoother with pigmentation virtually erased, leaving a more radiant, even skin tone.
"After reviewing numerous technologies and systems, our medical directors selected the StarLux System by Palomar, and I was incredibly impressed by the treatment for a number of reasons," said Tracy Brennan, founder of Kalologie Med Spa.
Time and the elements take their toll on the skin. As people age, brown and red spots, broken capillaries and pigmented lesions often combine to create a blotchy, uneven skin tone. Years of overexposure to the sun only make matters worse. IPL treatments rejuvenate the skin, clearing brown and red spots, broken capillaries and pigmented lesions, and evening skin tone and texture. This convenient, revolutionary approach to healthy-looking skin is achieved with minimal downtime both during and after treatment.
"With the Palomar StarLux Photo Facial, I had virtually no down time," said Brennan. "I finished, looking slightly pink all over, but with no 'bruised' areas. I actually went straight out to dinner after my treatment."
IPL is one of the latest advancements in treating hyper-pigmentation as well as stubborn brown spots on the hands, cheeks and chest. It is perfect for when bleaching cream simply won't work.
For more information about Kalologie Med Spa or IPL photo facials, visit their website at http://kalologie.com/.
About the Company:
Kalologie Med Spa provides their clients with award-winning skin products that will leave skin feeling fresh and vibrant. At the medical spa, patients can find cleansers, eye creams, serums and moisturizers that will complement their skin type and tone and revitalize their skin. When realizing that skin needs more than a take-home skin product, patients will find just the skin treatment they need at Kalologie Med Spa. The beauty experts at the spa can recommend the treatment that will make patients look and feel their best. Choose from any of Kalologie Med Spa's classic or signature facials, peels and waxing treatments. For more information, visit their website at http://www.kalologietx.com/.