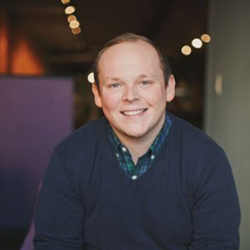 I've had the privilege to work with many brands and organizations that boldly and confidently stand for more than a product or service.
COLUMBUS, Ohio (PRWEB) July 19, 2019
Juvly Aesthetics has announced an expansion of its leadership team with the appointment of Nathan Okuley as its Director of Marketing and Sales. In his role, Okuley will be leading the marketing and brand strategy for the next phase of the company's rapid growth while furthering the company's mission of empowering clients to look and feel their best through cutting edge cosmetic services, accessible pricing, and an extensively-trained, expert staff.
Okuley joins Juvly Aesthetics with a proven track record of delivering exceptional results throughout his career. Most recently, as the Marketing Strategy Manager at Justice/ Ascena Retail, Nathan led the development and growth of the Live Justice App, the evolution of the Live Justice brand platform, the launch of several Justice Studios entertainment projects, and the comprehensive content strategy for the tween fashion retailer. Prior to his experience at Justice, Nathan spent six years helping clients, ranging from Fortune 50 companies to emerging brands, through leadership roles at several marketing, branding, and public relations agencies.
"I've had the privilege to work with many brands and organizations that boldly and confidently stand for more than a product or service," says Okuley. "At Juvly, there is a dedication to providing non-surgical aesthetic services with amazing results that look natural and beautiful. It's evident in all of the offices, in our training, and in our leadership team. Dr. Justin Harper believes whole-heartedly in this company and his enthusiasm radiates when you hear him speak about the incredible results and exceptional value we provide our clients in every appointment. That's what led me to this opportunity. I'm excited to work alongside him and the rest of the leadership team as we move Juvly Aesthetics forward and ensure that clients are in love with the way they look and feel."
In less than 4 years Juvly Aesthetics has grown from a small start-up to top 10 in the United States based on sales volume of Allergan & Galderma cosmetic products while earning 5-star ratings from clients.
About Juvly Aesthetics
Founded by Dr. Justin Harper in 2014, Juvly Aesthetics has grown to one of the largest and most highly acclaimed aesthetic practices in the country. Juvly has 11 locations in the following states: Ohio, New York, Florida, Minnesota and Wisconsin with more opening in the near future. The clinic specializes in non-surgical aesthetic procedures including the Allergan, Galderma, and Evolus portfolios of injectable products, medical devices, and skincare.