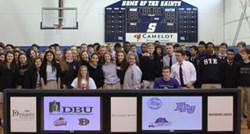 Houston, TX (PRWEB) February 13, 2014
St. Thomas Episcopal School is proud to announce that two of their students, seniors Michael Cusack and Emma Durain, have both signed on to play soccer at the university level.
Cusack recently signed with High Point University in North Carolina, joining their Division I soccer team. He is the first St. Thomas Episcopal School student to play in a Division I college soccer program. Durain has recently signed on to play for the women's soccer team at Dallas Baptist University. She is the first female soccer player from St. Thomas Episcopal School to sign with a college soccer team.
Both Cusack and Durain have been praised by excited school classmates, as well as faculty and staff members. St. Thomas Episcopal School would like to congratulate the graduating seniors on their accomplishment and wish them luck in the future as they join their respective university soccer teams.
Founded in 1955, St. Thomas Episcopal School is located near Bellaire and offers a Christian-based, classical education for grades pre-K-12. To learn more about the school, please visit their website. For information about admission, please email admissions(at)stes(dot)org.
About the company:
Saint Thomas' Episcopal School is conveniently located off Loop 610 between Beechnut and South Braeswood streets. Since its founding in 1955, Saint Thomas' has provided a superior education while instilling Christian values. The Christian school is dedicated to providing their students with the education they not only need, but also deserve. The educators at Saint Thomas' believe in nurturing both the minds and spirits of their students. The small class size at the school gives students the opportunity to fulfill their potential both in out of the classroom, as well as gain more personalized guidance from their teachers. Graduates leave Saint Thomas' well prepared for the rigors of higher education and for a productive life beyond the university. For more information, please visit their website at http://www.stes.org.