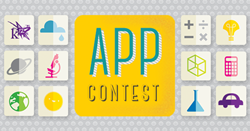 Herndon, VA (PRWEB) November 08, 2013
Young entrepreneurs get ready. K12 Inc. is hosting their first ever Build a Mobile App Contest for all participants ages 13 to 18 to develop mobile applications to be made available to the public. The contest comes on the heels of the company's mobile app portfolio expansion and renewed commitment to provide innovative educational content to consumers.
The K12 App Contest is currently open to the public and will end 5:00 PM EST on January 31, 2014. The theme of the contest is "The World of Science" and participants are invited to create a mobile app in one of three categories:

Earth and the Environment
Space and the Solar System
Transportation
Entrants must develop an app on the Android® or IOS® platform only and upload the app to either iTunes®, Google Play®, or Amazon®. A panel of judges selected by K12 will review apps received and will pick winners within two months following the end of the contest. The top three app developers can win an iPad® Mini tablet and every student who submits an app will receive a certificate of participation.
"We are excited to offer the mobile app contest for the first time to students who have the desire to develop innovative content and showcase their 21st century skills," said Abha DasGupta, Vice President of Mobile and Gaming. "There's a greater focus today in STEM education and we want to do our part to encourage students early on to develop and sustain an interest in computer science. Our hope is that this contest provides the challenge and incentive for students to harness their technology skills to create engaging and educational apps for the general public. "
K12 Inc. currently has a portfolio of over 15 unique mobile applications for Apple and Android users through the iTunes Store, Amazon Appstore, and Google Play and continues to grow.
For K12's Build a Mobile App Contest guidelines and how to enter, please visit the Contest Main Page.
About K12 Inc.
K12 Inc. (NYSE: LRN) is leading the transformation to individualized learning as the nation's foremost provider of technology-powered online solutions for students in pre-kindergarten through high school. K12 has worked with more than 2,000 school districts and has delivered more than four million courses over the past decade. K12 provides curricula, academic services, and learning solutions to public schools and districts, traditional classrooms, blended school programs, and families. The K12 Program is offered through K12 partner public schools in more than two-thirds of the states and the District of Columbia, and through private schools serving students in all 50 states and more than 110 countries. More information can be found at K12.com.
© 2013 K12 Inc. K12 is a registered trademark, and the K12 logo is a trademark of K12 Inc. All other trademarks are the property of their respective owners.