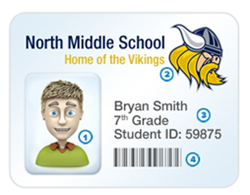 We understand how busy school administrators, staff, and teachers are, so we developed these custom systems to meet their specific needs.
St. Louis Park, MN (PRWEB) March 31, 2014
To make it easier for schools to print school ID cards in-house, ID Wholesaler, the leading photo identification product retailer, has developed three new school photo ID systems.
The three school systems include the Fargo DTC4250e Solution, Evolis Primacy Solution, and Magicard Enduro+ Solution. They each include a printer with optional upgrades, card printer supplies, ID software, blank ID cards, break-away lanyards, and one hour of training.
"We understand how busy school administrators, staff, and teachers are, so we developed these custom systems to meet their specific needs," says Jennifer Clancy, marketing manager at ID Wholesaler. "With this, schools can shop quickly and with confidence to get everything they need for their school ID program."
The systems include a top-selling printer from Fargo, Evolis, or Magicard, three of the leading ID card printer manufacturers. The systems also include color ribbon and cards so that schools can begin printing their first batch of cards right away.
In addition to the printer and printer supplies, the systems include Asure ID Express 7 software.
"ID software is important because it is the tool that schools will interact with every day to manage and print their cards," says Clancy. "Asure ID is our most popular ID software program and is very easy to use."
Users can import a single photo or hundreds of student and faculty photos into Asure ID for automatic placement within the ID card template. Cards can then be printed individually or in batches. Asure ID also offers built-in database functionality with Microsoft® Access and basic real-time external database connectivity.
To display the ID cards, the school systems include lanyards. The lanyards feature a safety breakaway, which releases the lanyard when pressure is applied, and are a simple and cost effective way for students and faculty to wear their cards with pride.
Finally, to ensure schools are able to get their ID systems up and running quickly, ID Wholesaler's school systems include 1 hour of training. Training sessions are customized to each school's specific needs and can include topics like ID card design, software database management, ID card production, or ID card printing and installation.
"School ID cards can be used for much more than just visual identification," notes Clancy. "Whether schools are just beginning to print their cards in-house, want to upgrade to advanced card features like attendance tracking or library check-out, or want to learn how to make the most of their printer, we're here to help!"
Schools interested in learning more about how to print ID cards in-house can visit http://www.idwholesaler.com/print-school-id-cards.html.
About ID Wholesaler
ID Wholesaler is the largest online retailer of photo identification products, serving its clients with guaranteed lowest prices, expert advice, and free support on everything they sell. ID Wholesaler stocks a broad selection of ID card printers and systems, software, supplies, and badge accessories from the leading manufacturers. For more information, visit http://www.IDWholesaler.com.