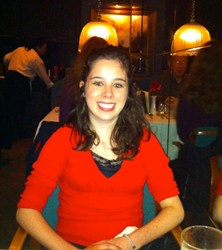 it was the perfect school for her
Herndon, VA (PRWEB) July 18, 2013
French playwright Molière once said, "The greater the obstacle, the more glory in overcoming it." For 20-year-old Ashley Jagodzinski of Rochester, Minn., Moliere's quote rings true. Before she was 18, this recent graduate of Minnesota Virtual Academy (MNVA) had three open heart surgeries, a brain hemorrhage, and was diagnosed with a severe case of juvenile rheumatoid arthritis or JRA.
"You have to grow up really fast, especially when you're 12 years old and you just had open heart surgery," she said in an interview with WCCO-TV in Minnesota. Before Jagodzinski was born, doctors discovered a rare heart defect that would keep her on a constant rotation of clinic visits, daily medications, and health setbacks. Then at the age of 12, she had a mechanical valve put in. She calls the scar from the surgeries her "badge of courage."
At 17, Jagodzinski suffered a stroke. Just a month later, she had seizures. Then just a week after getting released from the hospital, Jagodzinski suffered a brain hemorrhage. It was then that her family made the decision to move back to Rochester, Minn., so they could be closer to the renowned Mayo Clinic. She took a year-long hiatus from her schooling through K12's Arizona Virtual Academy so she could concentrate her energy toward recovery.
During that time, Jagodzinski underwent intensive physical, occupational, and speech therapy. She regained both her mobility and her speech. During her convalescence, her Mayo Clinic Rochester physicians nominated her for the Make-A-Wish Foundation. Jagodzinski's wish was to meet her idol Aaron Rodgers, quarterback of the Green Bay Packers. The wish was granted, and Jagodzinski credits Rodgers with inspiring her to persevere during the darkest part of her life.
After her year of convalescence, Jagodzinski resumed her education; this time it was through Minnesota Virtual Academy (MNVA). She realized after the first few weeks that it was the "perfect" school for her. Jagodzinski worked up to six hours a day in front of the computer, and graduated with honors. She decided to share her story with her fellow graduates when she delivered the commencement speech.
While at MNVA, Jagodzinski accumulated college credit through the school's post-secondary enrollment option (PSEO), taking classes at Rochester Community Technical College. This fall, she plans to attend Winona State University. As for Jagodzinski's career goals, she'd like to be a motivational speaker like Rudy Ruettiger, the former University of Notre Dame football player who is best known as the inspiration for the feel-good movie Rudy.
The Company plans to issue a series of inspiring student testimonials. Parents and students interested in learning more about virtual school options for grades K-12, can find an online school using a state-by-state interactive map. Enrollment dates vary.
About K12 Inc.
K12 Inc. (NYSE: LRN) is leading the transformation to individualized learning as the nation's foremost provider of technology-powered online solutions for students in pre-kindergarten through high school. K12 has worked with more than 2,000 school districts and has delivered more than 4 million courses over the past decade. K12 provides curricula, academic services, and learning solutions to public schools and districts, traditional classrooms, blended school programs, and families. K12 's curriculum is rooted in decades of research combined with 21st-century technology by cognitive scientists, interactive designers, and teachers. K12 's portfolio of more than 550 unique courses and titles—the most extensive in the technology-based education industry—covers every core subject and four academic levels for high school including Honors and AP. K12 offers credit recovery courses, career-building electives, remediation support, six world languages, and a deep STEM offering. The K12 Program is offered through K12 partner public schools in more than two-thirds of the states and the District of Columbia, and through private schools serving students in all 50 states and 85 countries. More information can be found at K12.com.