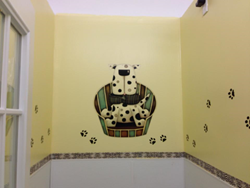 Each doggy suite has a unique themed decor.
Escondido, California (PRWEB) February 27, 2014
K9 Dog Park's themed suite hotel is similar to a bed and breakfast for dogs, according to owner Penny DiLoreto. "Each suite is decorated with a different theme to offer clients a choice. For instance, we have the "Pampered Paws", "Best in Show", "Safari" suites and others where the size and amenities appeal to the dog owner as well as to the dogs. They are attractive and fun."
K9 Dog Park started booking dog boarding suites and doggy daycare earlier this month. DiLoreto commented, "The hotel seems to be catching on quite well as we currently have reservations for dog boarding as far out as July. I think people appreciate that we offer "included extras" rather than up charges; I do not want to nickle and dime people who are boarding their dog with us. At K9 Dog Park every boarding comes with free all-day doggy daycare. However, if the dog's owner does not want the dog socialized s/he will not be put in that social situation but exercised with walks and play separate from daycare. Also, when clients choose to have their dog groomed while boarding, they receive a grooming discount. We are trying to enhance the stay and not detract from it." While staying for boarding, clients can include dog training such as obedience or Magic Wand to be accomplished during the stay.
Simultaneously with the launch of the new themed suite hotel for dog boarding, K9 Dog Park has launched doggy daycare in full-day and half-day packages. The fully supervised doggy daycare can be scheduled with or without boarding and includes exercise and mind-stimulation engagement such as tricks, dog Agility and massages.
About K9 Dog Park
K9 Dog Park is the leading dog training, grooming, daycare and boarding center for southern California. K9 Dog Park is the pioneer in advanced training techniques for dogs and their owners including snake avoidance training without the use of shock-collars; Behavior Adjustment Training for reactive dogs; "The Magic Wand" dog training system, and "La Paws" training to help create a safe environment for infants, toddlers and the family dog. K9 Dog Park owner, Penny DiLoreto has more than 20 years working in the industry. Penny is a certified groomer, certified Veterinary Assistant, Dog Behaviorist, Dog Trainer and accomplished Author. K9 Dog Park is a training site for Animal Behavior College-Groomers and Dog Trainers and Regional Occupational Program (ROP).