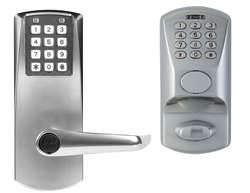 To be able to include the Oracode application on the BeHome247 dashboard and mobile application is a major step forward in the convenience of generating and managing lock user codes.
MONTREAL, QC, CANADA and AUSTIN, TX (PRWEB) September 17, 2014
Kaba and BeHome247 today announced a collaboration that joins the market-leading strengths of each company to offer an integrated home management solution for property managers active in the vacation rental market.
For more than 10 years, Kaba Oracode keyless door locks have facilitated the remote management of access to vacation rental properties through an easy-to-use and secure web-based solution that issues time-sensitive codes for guests, staff and vendors, and eliminates the need to distribute keys or keycards. Oracode, through its state-of-the-art technology, is a pioneer in addressing common challenges facing property managers– security while dealing with guests, housekeepers and service personnel, owner and guest satisfaction, and the need to keep expenses in check.
BeHome247 software has remotely controlled automated homes since 2006. Its Enterprise Property Control™ is the Preferred Home Automation & Energy Control System of HomeAway Software™. Enterprise Property Control™ provides customers the ability to monitor and control their portfolio of properties with an elegant, scalable solution that ensures secure access and optimizes energy efficiency. BeHome247 empowers property managers, owners and guests to control door locks, thermostats, pool systems, and many other compatible sensors – all from a tablet, smartphone or PC/Mac.
"Partnering with BeHome 247 is a natural extension for Kaba to provide best-in-class service to our growing base of vacation rental customers," said Stephen Pollack, vice president of marketing for Kaba. "To be able to include the Oracode application on the BeHome247 dashboard and mobile application is a major step forward in the convenience of generating and managing lock user codes."
"When discussing the potential for this collaboration, it was apparent that BeHome247 and Kaba shared the same vision with respect to the property management community," said Michael Walther, CEO of Behome247. "As the premier commercial grade lock available, Kaba provides access to guests in a secure and convenient manner, while BeHome247 alerts the owner when conditions within the property have changed. Now, managing these activities is accomplished from a single, integrated solution."
Kaba – Beyond security
With its innovative products, systems and services, globally active technology group Kaba (SIX Swiss Exchange: KABN) is a leading provider of high quality access management solutions, locks, cylinders, physical access systems, enterprise data and time recording, and hotel access systems. The Group is also the global market leader for high security locks, key blanks, transponder keys and key manufacturing machines. The listed Group employs around 7,500 people in more than 60 countries. For more than 150 years, Kaba has set trends in security and beyond – in terms of functionality, convenience and design, and always with a focus on optimum value to customers.
BeHome247 – Software for the Internet of Things
The forte of BeHome247 is software that allows users to manage multiple Internet-connected control devices and sensors from one unified dashboard. The privately held company with operations in Texas, South Carolina and Florida was formed in 2006 and has to date focused primarily on professional property managers of vacation rental homes. The total number of homes served by these managers is 125,000, and BeHome247's goal is to equip them all to be smart homes. In its fast-growing area of technology, the company stands out for its ability to provide practical, compatible, and cost effective solutions with clear and immediate economic benefits for its customers.