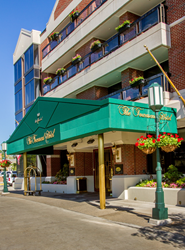 Our new generation of guests are mobile natives and we will meet their needs with mobile amenities and our personalized service.
MONTREAL, QC, CANADA (PRWEB) May 26, 2016
Kaba, the provider of Saflok™ and ILCO™ electronic locks, announced The Townsend Hotel in Birmingham, MI has installed Kaba's Saflok mobile-ready RFID electronic door locks. The Bluetooth Low Energy (BLE)-enabled locks utilize Kaba's System 6000 key card management system and offer the future possibility of enabling guest use of smartphones as keys. For more information on Kaba electronic locks, click here.
"There is a good fit between The Townsend Hotel and Kaba," said Townsend Managing Director Steven Kalczynski. "We installed Kaba's RFID Plus electronic door locks with their newest software platform for added security. Since the locks are BLE enabled, The Townsend can go live with mobile access functionality anytime in the future. With the flags implementing mobile access, The Townsend Hotel will work with an authorized Kaba integrator to develop The Townsend's app and online mobile access. Our new generation of guests are mobile natives and we will meet their needs with mobile amenities and our personalized service."
The Townsend received the AAA Four Diamond designation in 2016 for the 28th consecutive year. The Townsend, known for its exceptional personalized service and amenities, is one of only two Michigan hotels to receive the 2016 Forbes Travel Guide Four-Star Rating.
Kaba's Vice President of Marketing Stephen Pollack said, "The Townsend Hotel has a ten year relationship of trust with Kaba. The newest software platform has the upgraded encryption for keys and locks, creating an even higher level of guest security. We work closely with The Townsend's facilities director to ensure the property stays current with Kaba's latest operating platforms."
Kaba – Beyond Security
Under the Kaba brand, dorma+kaba Group offers innovative products, systems and services that make it to a leading provider of high quality access management solutions, locks, cylinders, physical access systems, enterprise data and time recording, and hotel access systems. The brand is also the global market leader for high security locks. For more than 150 years, Kaba has set trends in security and beyond – in terms of functionality, convenience, and design -- always with a focus on optimum value to customers. Kaba provides the Saflok and ILCO electronic locking solutions. http://www.kabalodging.com
dorma+kaba
The merger of the businesses of Kaba Group, headquartered in Rümlang (Switzerland) and Dorma Group, based in Ennepetal (Germany), was completed on September 1, 2015. Together, dorma+kaba is one of the top 3 global companies in the market for security and access solutions, with pro forma sales of over CHF 2 billion, and around 16,000 employees.
(formerly: KABN / KABNE)
Further information at http://www.dormakaba.com
For more information on Kaba and its products, please contact Dena Reyes at (800) 999-6213 or email infolodging(at)kaba.com.
About The Townsend Hotel
The Townsend Hotel is AAA Four-Diamond and Forbes Travel Guide Four-Star boutique luxury property located in downtown Birmingham, Mich. The Townsend, known for its exceptional service and amenities including the Rugby Grille, Afternoon Tea at The Townsend and a variety of bakery, banquet and catering services, also is a winner of 2015 industry readers' choice surveys including Travel + Leisure 500: The World's Best Hotels and Condé Nast Traveler 's Top 15 Hotels in the Midwest. For more information, visit http://www.townsendhotel.com or contact The Townsend Hotel at 800.548.4172.