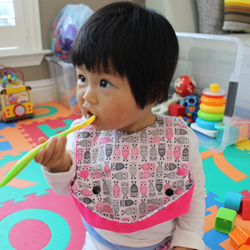 The KahelelaniTM feeding bib was meticulously designed to embody and enhance all the desirable features a parent would want to have in a feeding bib.
Seattle, WA (PRWEB) March 02, 2017
Kahelelani Designs, LLC, a Seattle-based start-up specializing in novel design baby accessory products, is launching the first-of-its-kind baby feeding bib, made solely of fabrics. Given the high demands of caring for an infant/toddler today, parents look for convenient tools to help them save time from cleaning so they can focus on more important tasks. While many helpful innovations are found in the electronics and safety product categories, few improvements are seen in non-technical products such as baby bibs. Kahelelani Designs' new product fills this gap.
"The KahelelaniTM feeding bib was meticulously designed to embody and enhance all the desirable features a parent would want to have in a feeding bib," said Yeung Tutterrow, President and founder of Kahelelani Designs. The number one issue of soft feeding bibs on the market is that the pocket often fails to stay open to catch food while those made of silicone or plastic are relatively heavy or stiff, making it uncomfortable for a child to wear. Aiming to combine functionality and comfort along with added convenient features, Kahelelani Designs has come up with a fabric alternative that would address all of the above issues. "My son would not wear one of those plastic bibs, that was why I started designing my own," explained Tutterrow.
The KahelelaniTM feeding bib is packed with desirable features that are difficult to find in any single bib on the market today. The novel bib configuration facilitates the bib pocket to stay open for food collection, while it also enables the pocket to unfold for thorough cleaning. Composed of both water-absorbent and -resistant materials, the bib easily handles spillage and protects the child from soiling. Well constructed with high quality fabric materials, the bib is machine washable and dryer-friendly. Like conventional garments, it will endure extended use and washings. Other favorable features include comfort, attractive patterns, light weight and compactness, making it ideal for traveling.
Here is what two parents said about the bib:

"Out of our huge selection of baby bibs, the four KahelelaniTM bibs are always first being used after drying. That says a lot about this product. Only we discovered KahelelaniTM recently or we would have more in stock and fewer of other brands. Comfy, ease of cleaning, and stylish! Highly recommended!"
"Love this bib! I actually have four of these. Very easy to pack and wash. These are the only bibs my kids agree to wear, not really sure why. Maybe because they're made of fabric, not plastic. The colors and the designs look fun..."
For those who are interested in trying out the KahelelaniTM fabric feeding bib, a limited quantity is currently available for sale, for promotional giveaways, and product reviews. Parents who would like to try the bibs can directly purchase them through the company store online at kahelelanidesigns.com. Baby product reviewers are welcome to contact the company for product review offers and giveaway prizes while supplies last. Kahelelani Designs is currently planning for the next mass production from overseas manufacturers. More details will be announced. U.S. patent is pending for KahelelaniTM fabric feeding bib, licensing inquiries are welcome.
About Kahelelani Designs:
Kahelelani Designs offers innovative solutions to parents who are looking for quality and functional baby accessory products for a better baby care experience. Founded upon love for little children, Kahelelani Designs is committed to making annual contributions to fund charity programs and research projects that directly benefit children.