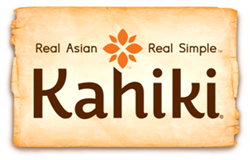 We are committed to leading the category with trendy new flavors consumers are looking for.
Columbus, OH (PRWEB) October 09, 2015
When it comes to Asian cuisine, Kahiki Foods is shaking up the frozen food category with hot new products. After the recent introductions of the innovative StirFresh® and Steam & Serve product lines, Kahiki is following it up with even more news squarely addressing the issues facing the frozen food category today.
As Kahiki's Big Kahuna, Martin Kelly, puts it, "Consumers are ignoring frozen food because there isn't anything happening that is getting their attention. Kahiki is going to change that in Asian food; we are committed to leading the category with trendy new flavors consumers are looking for."
At this weekend's annual NFRA (National Frozen & Refrigerated Foods Association) Conference in Dallas, TX, Kahiki will be debuting nine NEW items with popular flavors ranging from Thai to Korean to Chinese. With the exponential growth of Asian fast-food restaurants since 1999 – up +135% during that period – Kahiki is bringing more adventurous flavors and interesting product concepts to consumers shopping for at-home solutions in their frozen food section of the grocery store.
Kahiki's NEW Bowl & Roll concept pairs a single-serve entrée with an egg roll. "With 76% of consumers preferring an appetizer with their Asian meal, it made sense to combine the two into one convenient, microwavable meal," said Scott Corey, Kahiki's Master of Magical Moments and Multimedia.
The NEW Bowl & Roll flavors also reveal Kahiki's passion for bold and trendy Asian flavors. Three of the new flavors are Szechuan Pepper Steak, Sesame Ginger Chicken and Chicken Pad Thai.
The frozen food company's next big product launch comes in January when they start shipping their NEW line of Asian Stix. Asian Stix come in a fun-to-eat shape and with three new flavors: Thai Basil Chicken, Korean BBQ Pork and Toasted Sesame Chicken … all in a thin and crispy wrapper. Each product features 12g of protein per serving and is easy to prepare in just a few minutes from the microwave or oven.
"These bold new flavors are sure to capture consumers' attention and should help challenge their perception of frozen Asian food," says Kelly.
About Kahiki
So what does Kahiki mean? Kahiki [kuh-hee-kee] means, "Travel to a far-away place." For over 40 years now, Kahiki has been taking taste buds on a delicious adventure exploring Asia's greatest flavors. Kahiki believes the cleanest flavors come from pure, simple, all natural ingredients which is all that is allowed in Kahiki's kitchens.
Join the adventure at kahiki.com. While there, run your zip code through the product locator to find a delicious Kahiki near you.
For additional information, please contact Kahiki's Master of Magical Moments and Multimedia, Scott Corey, at scott.corey(at)kahiki.com.