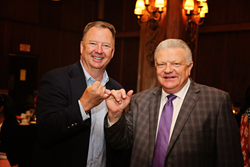 We are extremely excited to be supporting such a remarkable organization
Rochester, MN (PRWEB) June 24, 2016
On Tuesday, June 21, the Kahler Hospitality Group (KHG) hosted an exclusive dinner for the Pinky Swear Foundation (Foundation) at the Kahler Grand Hotel. The two organizations announced their newly formed relationship to collaborate on fundraising efforts and hosting families for All Star Weekends. All-Star Weekends provide a break for families to be together, take a hiatus from the hospital as well as the daily stress and worry that aligns with having a child with cancer. KHG presented a donation of $1,000 to confirm their commitment to the Foundation and their efforts.
"We are extremely excited to be supporting such a remarkable organization," said Bill Dwyer, Area Director for the Kahler Hospitality Group. "The support and resources that the Pinky Swear Foundation provides families battling cancer, is truly heartwarming."
The Pinky Swear Foundation is a Twin Cities based organization launched in 2003 after the passing of Mitch Chepokas. Mitch was only nine years old when he was diagnosed with cancer and it was during his battle, that he made his father pink swear promise, to continue to help other families with children battling cancer. Since Mitch's passing, the foundation has provided more than $11 million in financial assistance to families with children battling cancer, assisting more than 500 families in 42 states.
Representatives from both the KHG and the Foundation attended the exclusive event. In attendance from the Foundation were: Brian Nelson, Executive Director, Wendy Paulson, Director of Development, Amy Mauzy, Director of Marketing & Events Twin Cities and Colleen Norton, Program Director.
About the Kahler Grand Hotel:
With over a 90-year legacy of premier service and world-class comfort, the Kahler Grand Hotel is a historic hotel built in 1921 in Rochester, Minnesota at the request of the Mayo Brothers. The 616 room hotel offers world-class comfort and the convenience of being located in downtown Rochester. Climate controlled underground pedestrian walkways and skyways connect to the Mayo Clinic, restaurants and boutique shops. For more information about the Kahler Grand Hotel or any other Kahler properties, visit http://www.kahler.com/ or call 800-533-1655
About the Kahler Hospitality Group:
The Kahler Hospitality Group is a collection of six hotels located in Rochester, MN. The portfolio includes the International Towers at the Kahler Grand – Rochester's only 5 star hotel, Kahler Grand Hotel, Kahler Inn and Suites, Rochester Marriott Mayo Clinic Area, Residence Inn Mayo Clinic Area and the Kahler Apache Inn.
The Kahler mission is to serve with all of our heart, offering standout hospitality, excellent dining, caring in-room healthcare, and fulfilling any needs that might arise during your stay.