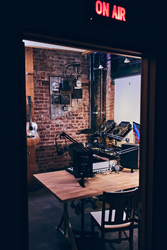 KALW celebrates its 80th anniversary this year with several exciting new initiatives, including a new broadcast studio in Oakland and a new visual identity.
SAN FRANCISCO (PRWEB) July 07, 2021
KALW, the first FM station west of the Mississippi River, celebrates its 80th anniversary this year, and with that milestone launches several exciting new initiatives. These include new music programming, a new broadcast studio at 25th Street Recording in Oakland, a new visual identity, a new non-profit status, as well as the development of a Diversity, Equity, and Inclusion (DEI) Impact Tracker.
KALW has long been a home for music discovery in the Bay Area with its long-running programs such as Tangents, Africa Mix, Music From Other Minds, Folk Music and Beyond, and Revolutions Per Minute. On July 19th, KALW will expand its music programming with the introduction of a new weeknight block of eclectic music from 8pm to midnight, featuring six new music programmers broadcasting from 25th Street Recording in Oakland.
In a new collaborative partnership with 25th Street Recording, KALW@25thStreet will introduce a team of new music programmers to reflect and serve additional and diverse listeners. The station seeks to deepen its commitment as an essential destination for music discovery and to serve Bay Area music lovers. KALW@25thStreet will also serve as a broadcast facility, an East Bay home, and a venue to feature artists and creatives in live performance and intimate interviews.
KALW's new DJ lineup will spin an eclectic mix of Bay Area-focused music at KALW@25thStreet, anchored by Wonway Posibul, from 8pm to 10pm, Monday through Friday. The 10 pm to midnight slot on weeknights will feature a rotating roster of exciting Bay Area DJs: DJ Umami, King Most, LadyRyan, J Boogie, and Margarita Azucar.
"We've been breaking new ground for decades, from our music programming to our news reporting to our training programs. After 80 years in service to this community, KALW is focused on creating the next generation of public media, bringing new voices to the air and reaching out in a dedicated way to the diverse communities of the Bay Area," explains KALW General Manager Tina Pamintuan. "As we look ahead, I believe KALW can bring in a public media listening audience that is truly reflective of the Bay Area and our increasingly diverse country, cultivating audiences and generations that public media hasn't reached."
Part of KALW's commitment to a more inclusive and equitable public media includes the development of an Impact Tracker tool for its newsroom, which will track in real time the station's performance and impact on DEI issues. The Impact Tracker will document whose voices KALW brings to the air — who is reporting, editing and featured in its stories — and how the communities the station serves are engaging with this reporting.
Beginning July 8th, as a kickoff of its 80th Anniversary, KALW Public Media will debut a new brand identity. The look and feel has been developed — pro bono — by the renowned design agency COLLINS. To honor the station's history of innovation, the new identity is at once bold and complex. It is the latest local branding project undertaken by COLLINS, which also developed the new identities for SF Symphony and the East Cut neighborhorhood, as well as Match.com, Mailchimp and other Bay Area icons. As part of the rebranding effort, KALW will also partner with Bay Shooters for a photo contest that celebrates the spirit of the Bay Area. The work of five local photographers will be selected and featured in the station's 80th Anniversary marketing campaign.
To prepare for the next 80 years, KALW formed a new nonprofit entity (KALW Public Media) in 2019 and entered into a Public Service Operating Agreement with the San Francisco Unified School District, to allow the station more operational discretion and fundraising control. This Agreement was entered into on December 8th, 2020, is valid for eight years, and renewable for an additional term with both parties' consent. KALW Public Media received its tax-exempt IRS designation in June 2020. Although day to day operatIons will be handled by the new nonprofit, SFUSD will still hold the original non-commercial broadcast license.
To learn more about KALW and to keep up with the latest news, visit the website at KALW.org and follow KALW on Facebook at http://www.facebook.com/KALWPublicRadio, Twitter (@kalw) or on Instagram at @kalwradio.
ABOUT KALW:
KALW 91.7 FM is a pioneering educational and community broadcast service licensed to the San Francisco Unified School District. On-air since September 1st, 1941, it is the first FM station west of the Mississippi. A full thirty years older than NPR, KALW created the first FM broadcast training program in the country and it trained women in radio broadcasting during World War II. KALW continues this tradition with the Audio Academy, a 10-month, tuition-free journalism training program, as well as its summer podcast academy for teens and its Uncuffed radio training program inside San Quentin and Solano State Prisons.
KALW has a track record of programming innovation: it was the first station in the Bay Area to air Fresh Air, This American Life, Snap Judgement and The Daily. It was amongst the first stations to air the BBC in the Bay Area, and was for decades the BBC's station of record in San Francisco. KALW is also the birthplace of 99 Percent Invisible and Radio Ambulante, and Snap Judgement's Glynn Washington recorded his show's demos at KALW's studios. The origins of Ear Hustle can also be traced to KALW's volunteer program at San Quentin State Prison. The station has been at the forefront of high-quality, socially minded radio from its inception. It remains deeply rooted in the Bay Area and its culture. The expansion into KALW@25thStreet in Oakland for the new DJ lineup is a testament to its dedication to all nine Bay Area counties where it broadcasts. KALW believes in creating and broadcasting stories that are social-justice minded and solutions-oriented.
With its diverse leadership and staff, and the voices centered in the station's on-air reporting, KALW is on a mission to inspire audiences and tell the human story in all its breadth and richness. Justice, equity, and community creation are at the heart of everything KALW does. The station is shaping public media's future by building upon its legacy for innovation and what's next, as well as by training, nurturing and amplifying local voices and makers. The station will continue to seek out and showcase the best from around the globe, and serve as an essential and trusted source for news, music, culture, podcasting and digital media.
ABOUT 25TH STREET RECORDING:
25th Street Recording is a world-class music recording and multimedia facility located in the heart of the vibrant East Bay arts and culture scene. 25th Street has become a cornerstone for the Bay Area music community supporting one of the most diverse cross sections of talent and musical styles anywhere in the world. The studio's ongoing mission is to provide first rate studio access to all regardless of genre or ability, and to continue the rich musical and arts history of the greater Bay Area.
ABOUT COLLINS:
COLLINS is an independent strategy, design and communications company with offices in Brooklyn and San Francisco. They combine creativity, craft and technology into ideas and experiences that improve people's lives. Insight and imagination is at the center of everything they do. To make brands that can't be ignored. To accelerate growth. To build better futures at scale. COLLINS has been named Design Agency of the Year by Ad Age three years running.
CONTACT:
Elka Karl hello@elkakarl.com/510-508-7328
David Boyer dboyer@kalw.org / 917.553.6288