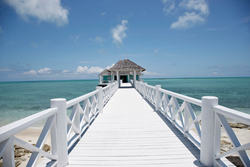 Kamalame Cay, Bahamas (PRWEB) September 30, 2016
Bahamas, August 2016: Travel + Leisure have deemed Kamalame Cay, a private island in the Andros archipelago, "No. 1 Hotel in The Caribbean, Bermuda and The Bahamas". Announced in August 2016, the Bahamian resort was also named "33rd Best Hotel in the World" among the esteemed publication's "Best 100 Resorts".
"We're thrilled to receive such high praise from a magazine as esteemed as Travel + Leisure," said David Hew "It's all the more special as, this coming season, we celebrate the 20th anniversary of Kamalame Cay, which my parents, Brian and Jennifer Hew, created to share our West Indies heritage and authentic island lifestyle with friends, family, and guests. To have been voted 'World's Best' brings the love full-circle."
A private island praised as much for its relaxed chic and world-class cuisine as its natural beauty, charm and style, Kamalame remains the very antithesis of the corporate luxury resort. The ultimate tropical getaway where a bikini and sarong counts as dressed for dinner, every guest is treated as family, and the atmosphere is as much gracious vibe (and chilled Rose…) as spectacular setting.
Having taken over Operations in 2011, David Hew and Michael King expanded upon Brian and Jennifer's original vision to create a truly extraordinary escape. With backgrounds in art, advertising, and luxury magazine publishing, across Sydney, Miami, London, and Toronto, Michael and David pooled their international panache. Well-traveled food and design aficionados, they reimagined the island's cuisine program, enhanced the wine and spirits lists, refreshed décor, guided fresh directions in interiors and architecture, and introduced social and culinary events that drew a stylish crowd from around the World. "These awards would not be possible without our amazing Bahamian team who work tirelessly every day to make Kamalame such a special place and our local partners and bespoke suppliers for their ongoing commitment to excellence" concluded Michael King.
For more information about Kamalame Cay, visit http://www.kamalame.com; email info(at)kamalame(dot)com or call 1-877-768-9423 for reservations.
Instagram: @KamalameCay
Twitter: @KamalameCay
About Kamalame Cay:
Established in 1996 Kamalame Cay is an oasis of verdant tropical foliage and deserted white sand beaches scattered with a collection of individually designed West Indies cottages, bungalows and villas. Separated from Andros Island by a turquoise inlet and edged by the Andros Great Barrier Reef and some of the world's finest coral gardens, this private, 96-acre island welcomes just 80 guests. Equipped with an overwater spa, tennis courts, freshwater pool and tiki bar, Kamalame Cay also boasts some of the finest cuisine in the islands along with a unique roster of experiences and wellness programs.
Media Contacts:
Jessica Bradford
2BPR Public Relations & Marketing, Los Angeles
Jessica(at)2bprinc(dot)com; 626-379-2381
Emily Baldwin
2BPR Public Relations & Marketing, New York
Emily(at)2bprinc(dot)com; 973-346-2580