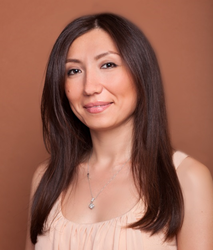 Dr. Bakirhan strives to provide comprehensive information to her patients and their families.
Downey, CA (PRWEB) July 29, 2016
Dr. Bakirhan grew up in Tashkent, Uzbekistan where she studied and received her medical doctor degree from the First Tashkent State Medical Institute. After receiving her medical degree, she received hematology training at the Scientific Research Institute of Hematology and Blood Transfusions in Tashkent, Uzbekistan. Dr. Bakirhan moved to New York for her residency and fellowship training for hematology and oncology at the Albert Einstein College of Medicine/Montefiore Medical Center in Bronx, New York.
During her free time, Dr. Bakirhan enjoys spending time with her family and friends. Her interests include cooking, yoga, hiking and traveling.
Professional Memberships:
American Society of Clinical Oncology
American Society of Hematology
American College of Physicians
Dr. Bakirhan is fluent in Russian and Uzbek.
Patient Philosophy:
Dr. Bakirhan is a skillful, devoted physician, who believes in the healing powers of compassionate care. She strives to provide comprehensive information to her patients and their families, in the most understandable way, allowing them to make therapeutic decisions in the best-informed way possible. She enjoys getting to know her patients and their families and strives to provide emotional support to her patients, as well as their families. She keeps up-to-date with the most current, innovative diagnostic and therapeutic options, utilizing multidisciplinary approach. Her patients receive access to many clinical trials, which enables them to take advantage of the latest cancer treatments.