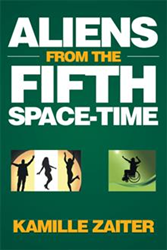 SYDNEY, Australia (PRWEB) April 08, 2016
Inspired by the notion that another space-time dimension exists beyond this one, author Kamille Zaiter reveals a gripping story in his new book. Written in an attempt to reconcile religious teachings with the logical scientific teachings, "Aliens from the Fifth Space-Time" (published by Xlibris AU) takes readers on an unforgettable journey that highlights the power of science, stressing that what it encompasses is superior to other ideologies when it comes to finding solutions to the problems that confront humanity, and also, when it comes to revealing cosmic truths.
In planet Globe, a team of nuclear scientists in a parallel universe are approached by harmless aliens who look like humans on the surface. Desperate to fix one of the components in their battery system and avoid disintegration, the aliens asked for their help. In return for the facilitation of equipment necessary to remedy the unique problem, the scientists are offered, amongst other things, a tour in the aliens' Fifth Field vehicle, where the passengers become invisible to others, but they themselves can see and hear everything around them. Can the alien problem be solved in time, or will the aliens revert to more primitive existences?
Zaiter wishes to reinforce the feeling that there is some form of higher intelligence that circumvents, and that consciousness of some form exists beyond the current space-time. "I also hope that readers become more appreciative of the wonders of science and the benefits that it entails," he adds.
A compelling read, "Aliens from the Fifth Space-Time" allows readers to stretch their imagination in a logical manner. It will bring out the senses of wonder and curiosity that lurk in the minds while it also offers hope based on reason.
"Aliens from the Fifth Space-Time"
By Kamille Zaiter
Hardcover | 6x9in | 290 pages | ISBN 9781514441824
Softcover | 6x9in | 290 pages | ISBN 9781514441817
E-Book | 290 pages | ISBN 9781514441800
Available at Amazon and Barnes & Noble
About the Author
Kamille Zaiter is a science teacher who has taught in Sydney schools for more than 30 years. He had a religious upbringing; those teachings later clashed with the powerful and ongoing evidence that supports biological evolution. The driving force behind the book is the author's attempt to reconcile both ideas in his troubled mind.