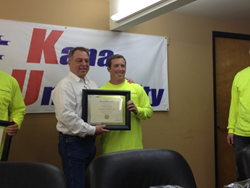 We expect them to be fully functional as a Superintendent within six months to a year.
Placentia, CA (PRWEB) April 14, 2014
Kana Pipeline's first student superintendent apprenticeship training program, informally known as "Kana University," recently celebrated the accomplishments of all of their apprentices, Austin Locke, Justin Dibble, Mathew Fournier and Mikhail Dolinskiy for successfully completing the company's rigorous pipeline training program.
In the first year of this training program, Kana Pipeline was glad to announce that they had successfully "graduated" all four apprentices. This pipeline training program was originally destined to take 18 months to formally complete but now takes approximately one year, with a six month one-on-one follow-up mentorship period in the field.
Kana Pipeline celebrated this historic and momentous heart-felt event with a jam-packed agenda that put a smile to every witness. Family members and key staff attended the event. One family member flew in from Georgia to witness the special ceremony. Special guests, Bruce Himes and Dominic Scigliano of Western Water Works, a pipeline vendor, who played a part in Kana's training program, also attended the ceremony.
The ceremony included a symbolic gesture, similar to formal college graduations where tassels are moved to symbolize the passage through a stage in life, and the commencement of a new stage. These "red shirt" apprentices symbolically cut their red field shirts, donning new safety green construction t-shirts, signifying their official transfer from the apprenticeship Program into full-time pipeline employees.
Construction calculators, company cell phones, hard hats and business cards were among a few of the items provided by Kana Pipeline as a welcome gift. Additionally, the Company gave a $1,000.00 cash bonus to each participant for not just successfully completing the course, but for earning a 90th percentile on the final exam test score.
Upon initial entry into the Apprenticeship Program, Kana Pipeline tested the students' knowledge of pipeline construction. The students averaged only in the 30th percentile, which shows significant improvement since they began the program nearly one year ago.
Diplomas were joyfully presented by Kana Pipeline's President and CEO, Daniel Locke, followed by job offer letters which were signed on the spot. Kana Pipeline's Director of Construction, Danny Sandoval, gave a finishing speech on "what's left to learn" in the field. Sandoval revealed the job assignments, which would begin on Monday following the graduation event.
To ensure a smooth transition into their full-time field work as Apprentice Superintendents, they will be given quarterly appraisals by both their mentoring Senior Superintendent(s) and by Kana's Director of Training, Doug Fenstermacher, who oversees the training program for the Company. "We are going through that process as we speak… We expect them to be fully functional as a Superintendent within 6 months to a year." said Fenstermacher. This post-graduate mentoring system will increase hands-on experience consistent with the Company's Program goals to integrate apprentices into real-world construction challenges.
The next paid pipeline apprenticeship program will start in May/June 2014. Kana Pipeline will begin accepting applications in the April-May time frame. Following new job postings, the Company will select the most ideal candidates as the number of openings for their class size is limited. Kana Pipeline encourages anyone interested in a career in pipeline construction to step forward and contact their Human Resources Department today.
For additional information on the news that is the subject of this release and to learn more, visit our website or contact Media Relations.
Media Relations
Kana Pipeline, Inc.
714-986-1400
http://www.KanaPipeline.com
info(at)KanaPipeline(dot)com
# # #
About Kana Pipeline:
Established in 1984, Kana Pipeline is celebrating its 30th Anniversary as a leading underground wet utility pipeline construction company. Kana Pipeline specializes in the installation of water pipeline, sewer, fire line and storm drainage systems for public and private residential, commercial, industrial and institutional new developments throughout Southern California. Its sister company, Kana Engineering Group, is a general engineering firm that does general water works, sewer treatment, solar, gas, mining, oil and other industrial construction projects which serve both private and public agencies.