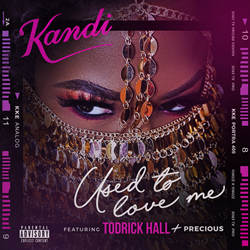 LOS ANGELES (PRWEB) May 21, 2020
Everything Kandi touches turns to gold! Hot on the heels of being unmasked as the winner of the #1 TV competition series, The Masked Singer, the Grammy Award-winning singer, songwriter, TV personality, actress and entrepreneur's new single, "Used To Love Me" stormed straight into the Top 5 on Apple Music's Dance Chart.
Kandi released "Used To Love Me" via her own Kandi Koated Entertainment label in partnership with EQ Distro. Get it here: https://eqdistro.io/usedtoloveme
"Used To Love Me" is an uptempo dance/pop smash with undercurrents of Kandi's signature R&B sound. It features Award-winning Youtube superstar, famed choreographer, and TV personality, Todrick Hall and popular rising artist, Precious. The infectious anthem was written and produced by Kandi, as well as Todrick Hall, Jonathan Henry, Jay-O, and Roderick Lawrence, with co-production from M-Millz.
Of the track, Kandi says, "I wanted to do something uptempo and fun and really step outside of the box with my sound. When I was adding features, my good friend and super-talented artist, Todrick Hall immediately jumped to mind, and I wanted to give a new female artist a moment to shine too, so we also collaborated with an amazing artist, Precious."
Kandi's star continues to rise - not only can she add The Masked Singer trophy next to her Grammy Awards, Kandi also continues as a Queen of Girl Power as the first woman to win the show! Kandi is flexing her acting chops with an upcoming recurring guest role on the mega-popular Showtime series, The Chi, which premieres in June, appearing in HBO's groundreambing series, Insecure, and she has also announced more new music is on the way!
Stay tuned for more amazing news from Kandi coming soon!
For more information please contact:
Natalie Geday | NMG Relations
natalie@nmgrelations.com
Ph: 714-655-2309
Cheryl McLean | CreativePR
cheryl@creativeprinc.com
Ph: 323-854-3822