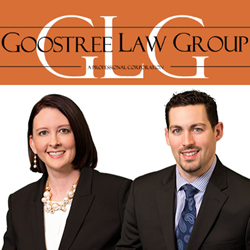 Kane County Family Law Attorneys Tricia D. Goostree and Anthony J. Giudice of Goostree Law Group, P.C. have been recognized as Leading Lawyers in Illinois.
St. Charles, IL (PRWEB) July 06, 2016
The Kane County law firm of Goostree Law Group, P.C., located in St. Charles, Illinois, is proud to announce that two attorneys have earned top distinctions from the Leading Lawyers organization. Founding Partner Tricia D. Goostree has been named a 2016 Leading Lawyer, and Attorney Anthony J. Giudice has been selected as a 2016 Emerging Lawyer. This year marks the second straight Leading Lawyers recognition for both Goostree and Giudice.
Leading Lawyers is a division of Law Bulletin Publishing Company. On an annual basis, the organization selects the top lawyers in each state based on their professional excellence. Leading Lawyers is a trustworthy and well-respected resource for potential clients to search reputable and qualified attorneys across the country based on location. Only five percent of all licensed lawyers in each state are recognized as Leading Lawyers. Emerging Lawyers must be either 40 years old or younger, or in practice for 10 years or less. These attorneys are said to have attained a high level of professional achievement at an early point in their career and account for only two percent of lawyers in each state.
Kane County Divorce Attorney Tricia D. Goostree is the Founding Partner of Goostree Law Group, P.C. She obtained her B.A. from Eastern Illinois University, and went on to earn her J.D. from The John Marshall Law School in Chicago. For over 15 years, she has concentrated her practice in the areas of family law, divorce and complex divorce, legal separation, prenuptial and postnuptial agreements, spousal maintenance, child custody, child support, and paternity.
Goostree was named a 2016 Illinois Super Lawyer and prior to that, she was named a Super Lawyer Rising Star from 2010-2015. She is a "Top Rated Divorce and Family Law Attorney" on AVVO based on exceptional client reviews and outstanding peer recommendations. In 2016, the American Institute of Family Law Attorneys (AIOFLA) named Goostree a "10 Best Attorney" for Client Satisfaction. Additionally, she holds active memberships to the Kane County Bar Association and DuPage County Bar Association.
St. Charles Divorce Attorney Anthony J. Giudice obtained his B.S. from the University of Illinois at Chicago, and obtained his J.D. from The John Marshall Law School. During law school he was named a "Who's Who Among Students in American Universities and Colleges". Giudice concentrates his legal practice in family law including: divorce, child support, and spousal maintenance. He is also an experienced litigator who effectively handles appellate court matters.
In 2015, the National Advocates organization named Giudice a "Top 40 Under 40" Attorney in Illinois. He is also a member of the Kane County Bar Association and DuPage County Bar Association. In addition to his legal practice, Giudice serves as a board member for the Cambridge at Countryside Homeowners' Association.
About Goostree Law Group, P.C.:
The Kane County family law firm of Goostree Law Group, P.C. proudly represents clients within the communities of St. Charles, Geneva, Batavia, Oswego, Wheaton, and throughout Northern Illinois. The experienced negotiators and litigators at Goostree Law Group, P.C. are dedicated to advocating on behalf of their client's rights to achieve the best possible outcome for each case.
If you are seeking compassionate and knowledgeable Illinois family law representation, call Goostree Law Group, P.C. to schedule a free initial consultation at 630-584-4800 or visit the firm's website at http://www.familydivorcelaw.com.