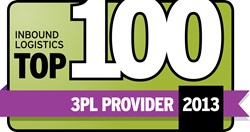 The Top 100 3PL Provider list recognizes world-class logistics performance.
Scranton, PA (PRWEB) December 12, 2013
Kane Is Able, Inc. (KANE) has been named one of the industry's top third party logistics (3PL) providers by Inbound Logistics magazine. The magazine's annual Top 100 3PL list includes companies that, based on a careful analysis by the editors, are best equipped to meet and surpass readers' evolving needs for outsourced logistics services.
"World-class logistics performance is crucial for companies of all sizes – from Fortune 500 to SMBs," says Felecia Stratton, Editor, Inbound Logistics. "Given the scope and scale of that challenge, IL editors recognize that KANE provides the kinds of solutions that companies large and small rely on to solve the tactical logistics issues of serving customers better, faster, and more efficiently. We're proud to recognize KANE as one of our 2013 Top 100 3PLs."
According to KANE CEO and President, Pete Westermann, "This Top 3PL recognition reflects the hard work of our associates across the United States. We thank them and our customers, who allow us to wake up every day and pursue our passion of making CPG supply chains more efficient."
About KANE
Kane Is Able is a third-party logistics provider that helps consumer product goods companies efficiently distribute goods throughout the United States. KANE's value-added services include integrated distribution, packaging, and transportation solutions specially designed to meet the needs of manufacturers and their retail partners. Visit KANE at http://www.kaneisable.com.