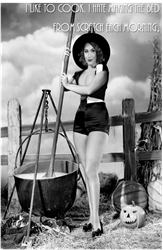 Fort Lee, NJ (PRWEB) October 08, 2015
October 9th, 2015: Today, Kangapoda Corporation announced that it will begin deploying a totally on-point, Sexy Witch Campaign on social media. "The chill is in the air…the leaves are falling…and it's now the season for playoff baseball, football, and Sexy Witches" declared Hal Mintz, Kangapoda's founder. Management thought it would be a fun and effective way to blend holiday spirit, ergonomic magic, and sex appeal to emphasize Kangapoda's incredible ergonomic benefits. The Sexy Witch Campaign will run from today through Halloween, and Kangapoda hopes people will check in each and every day to get festive, learn about Kangapoda, and, of course, see the sexy witches.
About Kangapoda
Headquartered in Fort Lee, NJ, Kangapoda is the inventor and patentee of bed top sheets and blankets with an ergonomically superior canopy at the foot of the bed so that when one reclines on his or her back, the feet may naturally and comfortably remain at a right angle. People are finally able to watch TV under the tucked-in covers in comfort without having their feet forced into unnatural positions.
For more information visit http://www.kangapoda.com and follow Kangapoda on Facebook, Twitter, and Instagram (@Kangapoda).