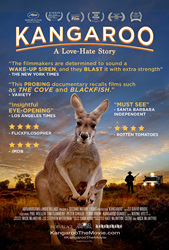 "The recent wildfires in Australia where over 1.2 billion native animals were killed have brought attention to kangaroo wildlife. Our film exposes the truth behind the brutal killing of kangaroos for products nobody needs; to anyone who loves Australia they need to see this film," said Mick McIntyre
SYDNEY (PRWEB) May 27, 2020
Directors Mick McIntyre and Kate McIntyre Clere's provocative tale of investigative journalism, KANGAROO A Love-Hate Story, is the critically acclaimed documentary that VARIETY compared to The Cove and Blackfish about the beloved icon's fate in the largest mass destruction of terrestrial wildlife in the world. The multi-award-winning, controversial film is available globally on May 27th on all Digital/Streaming/Vod platforms. The comprehensive feature has made headlines due to the dramatic reaction. Major fashion brands Versace and Diadora have stopped using kangaroo skins in their products. Big-name supermarket brands in Europe like Carrefour have stopped selling kangaroo meat, and sports companies in Europe are removing kangaroo skins from their products.
The New York Times' glowing review declared, "the filmmakers are determined to sound a wake-up siren, and blast it with extra strength." The Los Angeles Times also described the film as gorgeous wildlife photography," and Channel 7 Sunrise called it "The most controversial Australian documentary ever released in America."
"The recent wildfires in Australia where over 1.2 billion native animals were killed have brought attention to Australia's commercial killing and trade of its kangaroo wildlife. Our film exposes the truth behind the brutal killing of kangaroos for products nobody needs; to anyone who loves Australia, they need to see this film," said Mick McIntyre Co-Director.
'KANGAROO' sparked a global social impact campaign to stop the brutal slaughter of Australia's wild kangaroos. Notables who helped spread the message to their followers include singer Sia, Russell Crowe, Teresa Palmer, Peter Singer, Terri Irwin, and many others.
KANGAROO was filmed in the distinctive Australian landscape and exposed the divisive opinions around this unique Australian icon and first screened at Cannes in 2017 and premiered in Los Angeles and NYC in January 2018 and was seen in Europe, Australia, and toured the globe with special event screenings throughout 2018/2019 and can now be seen by a wider audience via major digital platforms.
AWARDS
Best Film
World Documentary Awards
Award of Excellence: Documentary Feature
Impact Doc Awards
Best Australian Documentary
Melbourne Documentary Festival
Best Australian Film
Wildlife Conservation Film Festival
Jury Prize
Social Impact Media Awards (SIMA)
Academy Awards
Considered for the 2019 Academy awards – Best Feature Documentary category
Kangaroo – A Love-Hate Story (2018, Australia, RT: 99 Minutes). Written, Produced and Directed by Kate McIntyre Clere and Mick McIntyre. Edited by Wayne Hyett. Cinematography by Mick McIntyre. Music by David Bridie With - Phil Wollen, Tim Flannery, Peter Singer, Terri Irwin, Brolga Barns. An Abramorama & Indievillage release.
KANGAROO key art is available for download upon request.
http://www.kangaroothemovie.com
#kangaroothemovie
For further media and interview inquiries please contact: Hello@indievillage.org