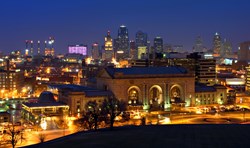 Kansas City, Missouri (PRWEB) September 30, 2013
TrafficLaw.com recently announced its expansion into the Kansas City metropolitan area, where its Kansas City traffic ticket lawyers now provide legal services for all types of moving violations, from simple speeding tickets to serious driving charges such as DWI. It has now expanded the TrafficLaw.com website to showcase its traffic law services in Kansas City and the 31 surrounding municipalities in which it also now provides traffic law services. The newly expanded Kansas City section provides concise information about its legal fees for various traffic tickets and Kansas City DWI defense.
The Kansas City speeding ticket lawyers at TrafficLaw.com work to reduce moving violations, such as speeding tickets, stop light and stop sign tickets to lesser violations that do not result in points being assessed to the driver's record, as well as keeping car insurance rates from rising. The online traffic lawyer service also represents persons who face more serious charges such as driving while suspended, driving while revoked and minor in possession. TrafficLaw.com's Kansas City DWI lawyers provide comprehensive DWI representation, from defense of criminal DWI charges in the Kansas City area to the Missouri state administrative hearing process.
The TrafficLaw.com website provides comprehensive information about the various legal services it provides Missouri drivers, the Missouri driver's license points system and how even relatively minor traffic tickets can have expensive and long-lasting consequences. The online law firm has real attorneys providing real legal representation and provides a free attorney consultation to all Missouri drivers in need of a lawyer.
About TrafficLaw.com
TrafficLaw.com provides complete legal services relating to driving, from reducing speeding tickets to representing those injured in a motor vehicle accident. As an experienced attorney, he is able to provide unparalleled legal representation to drivers at highly competitive prices. The St. Louis-based traffic law firm handles speeding tickets, stoplight and stop sign tickets, driving while intoxicated (DWI), driving while suspended and all other types of driving infractions. They may be reached at 1-888-TRAFFIC or by visiting the firm's website at http://www.trafficlaw.com.