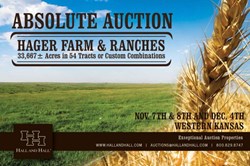 Auction attendees agreed that Hall and Hall Auctions went above and beyond in every way.
Eaton, CO (PRWEB) November 13, 2013
The Triple Crown of auctions took place on November 7-8, 2013 when 33,667 acres of Kansas farm and ranch land were put on the market by Hall and Hall Auctions. More than 500 spectators, including 128 registered bidders, participated in a two-day auction totaling $46,485,770 in land sales. For more information contact John Wildin at 620-662-0411 or Scott Shuman at 970-716-2120.
Highlights of the auctions included: a 160-acre Wichita County tract that fetched $3,312 per acre and ranchland south of Meade, KS that brought $1,007 per acre. Properties were purchased by 22 separate individuals, including local landowners and buyers from Louisiana, Texas, Nebraska and Colorado.
"The Hager Farms auction was a complete success and the sellers could not be happier," said Shuman. "The vast land holding was assembled by Walter Hager and his wife Virginia over a 35 year period. After interviewing many auction firms Virginia made the decision to market the property through Hall and Hall utilizing our unique multi-par choice process."
Hall and Hall Auctions conducted three separate auctions that brought in $31,275,300, $6,756,970, and $8,453,500 respectively. All three events were very well attended, and attendees were impressed with the process and prices.
"We received an array of compliments on our brochures, maps, and advertising program," said Shuman. "Auction attendees agreed that Hall and Hall Auctions went above and beyond in every way. I am proud of our team."
In addition to a robust marketing strategy, each Hall and Hall auction utilizes the full Hall and Hall database, which has been arduously culled over 60 years to ensure that every qualified buyer has an opportunity to be exposed to the property. Hall and Hall also video streams its auctions, allowing interested parties to participate in the auction process from across the globe.
The Hager Farms equipment auction on December 4, 2013 will include: feedlot equipment, feeders, panels, trailers, extensive farm equipment, cattle handling equipment, several tractors and pickups, and stop tools. For additional information on farm and ranch auctions, contact Hall and Hall Auctions at 970-716-2120 or visit http://hallhall.com/auctions.
About Hall and Hall:
Hall and Hall was formed in 1946 as an agricultural mortgage company, and has since branched out into farm and ranch brokerage, appraisals, resource management and enhancement, retained search, auctions, and consultation on conservation easements and stewardship plans. Hall and Hall has emerged as the largest full service rural real estate firm in the Rocky Mountain West and Great Plains regions, managing more than one million acres of land, and servicing a loan portfolio of more than $500 million. A unique partnership between its offices in Montana, Wyoming, Idaho, Texas, Kansas, Nebraska and Colorado ensures that the client receives local knowledge and personal service as well as the international perspective needed to make informed acquisition and management decisions.