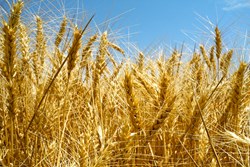 Buyers will find the ranchland to be well-maintained and cattle-ready.
Eaton, CO (PRWEB) August 27, 2013
Late October and early November 2013 will be a busy 30-day span for Hall and Hall Auctions as it will be managing multiple auctions amassing more than 40,000+ acres of farmland and ranchland across Kansas and Nebraska.
The 6,352± acre Bliss Ranch lies in the well-known Sandhills of Nebraska area just 15 miles west of Valentine, NE and will be sold, absolute on October 22. The 33,667± acre Hager Farm and Ranch Properties is a collection of properties comprised of 16,346± acres of farmland and 17,321± acres of ranchland in six counties throughout western Kansas. The properties will be sold via three separate land auctions on November 7-8 and an equipment auction on December 4.
"All the components of the Hager Farm and Ranch Properties will add well to an existing cattle operation or investment portfolio," said Scott Shuman of Hall and Hall Auctions. "Buyers will find the ranchland to be well-maintained and cattle-ready."
Tracts and combinations of the massive landholding will be sold on multiple dates, making this a tremendous opportunity for buyers to purchase their ideal property. The extensive line of equipment will also be sold at auction on a separate date.
"One of the most phenomenal components of the Hager Farm and Ranch Properties is that 75% of Seller's mineral rights will convey with the property," said Shuman. "That is an opportunity you do not see very often."
Valentine, NE is well known for its cattle industry and the Bliss Ranch is no exception. The ranch has heavy grass and receives substantial rainfall, making it an ideal cattle operation. The property will be offered in three tracts and combinations at absolute auction, ranging from 1,466± acres to 2,842± acres. Bliss Ranch also has a 1,415 square foot ranch style home with four bedrooms and 3 bathrooms. An information date is scheduled for October 8th from 10:00 AM – Noon at the Valentine Niobrara Lodge.
Longtime farm & ranch brokers Tom Metzger and John Wildin of Hall and Hall will be conducting all showings. For more information on these farm and ranch auctions, contact Hall and Hall Auctions at 800-829-8747 or visit http://hallhall.com/auctions.
Auction Dates and Locations:
Nebraska Bliss Ranch Auction – Tuesday, October 22nd, 10:00 AM CDT
Peppermill Restaurant - Valentine, NE
Kansas Farmland Auction– Thursday, November 7th, 2013 10:00 AM CDT
Wichita County Community Building- Leoti, KS
Kansas Meade Ranchland Auction – Friday, November 8th, 2013 9:00 AM CDT
Meade County Fair Grounds- Meade, KS
Kansas Scott City Ranchland Auction – Friday, November 8th, 2013 3:00 PM CDT
William Carpenter Building- Scott City, KS
Kansas Equipment Auction – Wednesday, December 4th, 2013 10:00 AM CDT
On Property (Location Forthcoming)
About Hall and Hall:
Hall and Hall was formed in 1946 as an agricultural mortgage company, and has since branched out into farm and ranch brokerage, appraisals, resource management and enhancement, retained search, auctions, and consultation on conservation easements and stewardship plans. Hall and Hall has emerged as the largest full service rural real estate firm in the Rocky Mountain West and Great Plains regions, managing more than one million acres of land, and servicing a loan portfolio of more than $500 million. A unique partnership between its offices in Montana, Wyoming, Idaho, Texas, Kansas, Nebraska and Colorado ensures that the client receives local knowledge and personal service as well as the international perspective needed to make informed acquisition and management decisions.