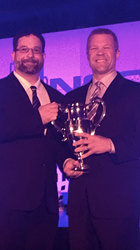 OVERLAND PARK, Kan. (PRWEB) July 18, 2018
Colorado Springs, CO – The National Strength and Conditioning Association is proud to announce that Dr. Daniel Lorenz has been selected as the NSCA's Sports Medicine/Rehabilitation Specialist of the Year for 2018. Dr. Lorenz becomes the 17th recipient of the award, which has been handed out since 2001. Award winners are selected by a volunteer committee, the NSCA's Sports Medicine/Rehabilitation Special Interest Group, who determine the winner based on their contributions to the NSCA, their community, and the field of sports medicine/rehabilitation for athletes.
Dr. Lorenz is a co-owner and Director of Physical Therapy for Specialists in Sports and Orthopedic Rehabilitation (SSOR), an outpatient physical therapy practice based in Overland Park, KS. He earned a Bachelor of Science degree in Health Sciences with an emphasis in Athletic Training from Grand Valley State University in 1999 and Master of Science in Physical Therapy from Grand Valley State in 2001. From 2004-2005, Dr. Lorenz completed the Duke University Sports Physical Therapy Fellowship. Formerly, he was an assistant athletic trainer and Director of Rehabilitation for the Kansas City Chiefs from 2005-2007. Relevant previous experiences also include an internship with the Chicago White Sox Major League Baseball team as well as a stint at the U.S. Olympic Training Center in Colorado Springs, CO prior to the 2004 Athens Summer Games. In 2009, Dr. Lorenz earned his Doctor of Physical Therapy from the University of St. Augustine in St. Augustine, FL. He has published numerous articles in peer-reviewed journals, has written book chapters, authored two home study courses, and has presented several times at local, state, and national conferences on sports medicine and performance enhancement in the recovering athlete. He is currently the Chair of the Sports Performance Enhancement Special Interest Group for the Sports Section of the APTA. Dr. Lorenz also founded a 501(c)(3) non-profit organization, the ASPIRE Foundation, to help young athletes, coaches and parents stay injury-free. In addition, Dr. Lorenz was recently on the medical staff for the USA Weightlifting Nationals held in Kansas City in May of 2018. He is a 4th degree in the Knights of Columbus and is married to Jo Ann. They have three children – Luke (7), Mallory (5), and Justin (2).
"We like to recognize Dr. Daniel Lorenz for his outstanding accomplishment," said Michael Massik, NSCA Executive Director. "This award is a small attempt to recognize him for the impact he has made to sports medicine and rehabilitation for athletes."
To learn more about Dr. Lorenz and SSOR, visit http://www.ssorkc.com. SSOR has locations in Overland Park and Prairie Village, KS.