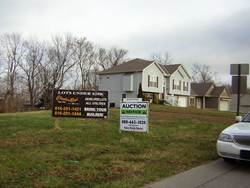 Kansas City, MO (PRWEB) May 27, 2014
Developers looking to add to their portfolio should take note: a fabulous residential investment and development opportunity has arrived on the scene in the great Midwest; two vast, vacant parcels of land near Kansas City, Missouri are now available for purchase ahead of a highly anticipated May 31 auction on Micoley.com.
At 32 Lots Springhaven Estates & Westridge Estates S/D (zip: 64138), 32 developed single-family lots, ranging in size from 0.17 acres to 0.34 acres (totaling 6.93 acres), are available as one of the newest residential developments in the area. All utilities are already available and installed to the lots, and sanitary sewers, storm sewers, and curbs are in place, as well. The land is close to I-435 with easy access to the Kansas City metropolitan area. The property is listed at $275,000 with an opening bid of $155,000 if no offer is received prior to the auction on May 31.
In the same Springhaven Estates subdivision as the above item, 23.58 acres of excess land are also on the market. Per an appraiser, a total of 89 future lots have been preliminarily platted. All utilities have been installed to the edge of the excess land. The property is listed at $299,500 with an opening bid of $185,000 if no offer is received prior to the auction on May 31.
The above properties are located in the immediate area of one of the central United States' great urban and cultural centers. In addition to being home to two of professional sports' most storied franchises (the Royals and the Chiefs), Kansas City is one of the country's largest cities and is home to the corporate headquarters of many instantly recognizable companies like AMC Theatres, Applebee's, Hallmark Cards, and Hostess Brands.
The highly motivated sellers of these two auction items have indicated that they plan to entertain early bids and offers. Developers and investors are most likely already researching these properties, and coming to decisions about whether to make a purchase, so potential buyers are advised to act fast.
Interested parties should visit micoley.com to find more photos and details about the property, or by visiting in person and performing an inspection on site, which is highly recommended. (866) 371-3619 is Micoley.com's information line. Additionally, Micoley.com features a live chat service through which questions can be answered.
About Micoley.com:
Green Bay, Wisconsin-based Micoley.com is a real estate marketing firm specializing in project focused auctions of bank-owned properties throughout the United States. The Micoley.com approach to real estate marketing tailors each auction plan to the client's individual needs. The site is constantly being updated for the benefit of buyers, as large scale auction events are held monthly, and new properties are added daily. IL Broker Firm: Micoley.com LLC #481.011994. IL Broker: Robert Stone #471.015845. WI Auctioneer Firm: Micoley.com LLC #432-53. Registered Wisconsin Auctioneer: Wade T. Micoley #2647-052. WI Broker Firm: WM Enterprises, Inc. #835181-91. WI Broker: Wade T. Micoley #43427-90. Auctioneer: Wade T. Micoley #13-15. Broker Firm: WM Enterprises Inc #2011014140. Broker: Sarah Bloustine #2002012521. For a full list of licensing please visit their website.