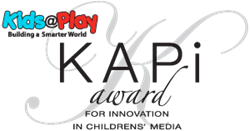 Making good products for kids is like making magic. By awarding the KAPis we believe we're upping the bar for good kid's media and products.
Las Vegas, NV (PRWEB) January 09, 2014
Living in Digital Times and Children's Technology Review have teamed up once again to honor the latest in innovation in children's technology at the fifth annual Kids at Play, KAPi Awards. This year's winners have been selected and awards will be handed out on January 9th at 6 p.m. PT in North Hall, Room N255, in the Las Vegas Convention Center and World Trade Center (LVCC) at the 2014 International CES® in Las Vegas, Nevada.
"From outdoor play and educational technology to apps and videos games, we received nearly 400 nominations and identified eight winning innovations that have introduced new and exciting ways to play," said Robin Raskin, founder of Living in Digital Times.
"Making good products for kids is like making magic," says Warren Buckleitner, editor of Children's Technology Review, "By awarding the KAPis we believe we're upping the bar for good kid's media and products."
The 2014 KAPi Award Winners:
Innovation
Neos by PlayWorld Systems
With lights, scoreboards and electronic interaction these playground systems are a step into the future. Purchased primarily for use in public spaces, these new age playgrounds meld the best of physical and electronic worlds.
Judges said, "For years digital play has been relegated to couch potato status. PlayWorld Systems leverages technology to support and enhance outdoor play. The playground experience becomes interactive mixing cognitive and gross motor play."
Best App for Younger Children
StoryBots by JibJab Media Inc.
A complete collection of apps, activities and games all of the StoryBot titles are award worthy for their animation, music and engaging activities.
Judges said, "The quality, passion and innovation behind StoryBots is proof that children's content can be equally appealing to grownups; a formula applied by storytelling masters through the ages."
Best App for Older Children
The Human Body by Tinybop
Everything, from the bones and brain to cells and veins, is animated by particles physics in this interactive playscape. Children can poke, probe, and examine the skeletal, muscular, nervous, circulatory, respiratory, and digestive systems. Each app contains a recording tool so kids can ask questions, listen, and respond to each other.
Judges said, "Humor meets science in this poster-child example of how to make invisible, abstract biological science have meaning to a curious child. You help the lungs expand, make digestion happen, and experience the nervous system, giggling all the way."
Best Tech Leverage Toy
Furby Boom by Hasbro
The all new Furby Boom has a mind of its own and combines physical and digital ways to play. Interact with your Furby Boom 1-on-1 to shape its personality. Only with Furby Boom can one hatch and raise digital Furby Furblings.
Judges said: "Furby Boom has made the transition to the digital age. By integrating and leveraging the affordances of each platform (toy and tablet), it's created a top notch personal play experience. Sure, it can still drive a sane adults crazy, but kids will make Furby speak, dance, sleep and repeat for a long time."
Best Video Game Software
Disney Infinity by Disney Interactive Studios
A new video game that combines classic Disney figurines with online adventures that kids can play and even create their own. The stories and play experiences star some of their favorite Disney and Disney/Pixar characters.
Judges said, "Everyone wondered if Disney could pull it off when they decided to enter a market dominated by powerful forces like Spyro and Minecraft. Disney Infinity is proof that children can be given the keys to the magical kingdom. By combining high quality collectibles and a portal to a virtual sandbox, kids are free to invent their own worlds based on their favorite Disney characters."
Creative Team
Touch Press
A series of digital coffee table books, these luscious graphics with clean smart interface and some really visual ways to make topics come to life.
Judges said, "When Steve Jobs needed a stunning app to highlight the power of the iPad, he turned to an app called The Elements-- the first app created by the team at Touch Press. Today, the team at Touch Press has set the standard for beauty and usability for non-fiction apps. The latest example, Disney Animated, makes Disney film-making history come to life in new ways. Touch Press continues to raise the bar, bringing magic to the fingertips of kids of all ages."
Best Educational Technology
Hopscotch by Hopscotch Technologies
An exciting new option for teaching kids a visual programming language.
Judges said, "Finally, a simple drag and drop programming experience -- running on a tablet. Hopscotch provides a fresh set of training wheels for future coders."
2014 Pioneer
David Kleeman: PlayVangelist and SVP, PlayCollective
Judges said, "David Kleeman has spent a lifetime championing quality for children's media. For 25 years he's explored, judged and put the spotlight on 'only the best' for children. He's constantly rethinking what a quality screen-based experience should be. He does this in many ways including cinema in contests like the Prix Jeunesse. As a senior fellow of the Fred Rogers Center for Early Learning and Children's Media, at the American Center For Children's Media, and now at PlayCollective, David has brought thought provoking conversation to developers, educators and researchers in kids' media. His voice is heard worldwide as a moral compass and passionate evangelist for children's publishing."
Honorable Mentions were given to the following products:
Disney Magic Mirror App and Princess DreamCastle
Judges said, "You've got to love your princesses but Disney does an awesome job or merging physical and digital play to create a new kind of storytelling experiences both in and around the castle. The castle features rooms for Ariel, Cinderella, Rapunzel, Aurora and Snow White. Children scan special spots around the castle with any iOS device to unlock activities in the app. Sewing with Cinderella and baking with Snow White are fun, if a bit limited in scope, activities."
Tiggly
Judges said, "Simple physical shapes and a number of todder friendly games combine to offer multi-modal play for the youngest kids."
OverColor
Judges said, "OverColor is a clever spatial game with an incredible sense of minimalist interface design and strong player engagement. There is no text and no instructions whatsoever. The user experience is extremely clean and straightforward, audio soundscaping and audio responses are light, but greatly add to the experience, allowing a user to focus on the task at hand and not getting in the way of the play."
Pines to Vine
Judges said, "Pines to Vine shows traditional publishers how best to create great engaging educational content. This versatile and highly scaffolded eBook offers a customized experience for a wide array of learners. Screen text can be modified based on a user's reading ability, and science concepts that are presented through a variety of interactive examples which make abstract concepts interactive, accessible, concrete, and memorable."
Celestron Wifi Telescope and Microsope
Judges said, "Celestron is the first to add WiFi to telescopes and microscopes and create free apps that let you explore and record what you see. Celestron's reputation for excellence and digital innovation makes this a great bet for introducing kids to the worlds through the eye of a microscope or telescope."
PezoPals
Judges said, "This interactive bear/MP3 player was invented by an 11 year old boy. Kudos on his early start as an inventor. A cuddly bear replete with controls cradles an MP3 player that's preloaded with 24 hours of children's classic stories, music and games. You can also record your own voice."
About Children's Technology Review
Founded in 1993, Children's Technology Review is designed to help parents, librarians and teachers better use technology with children by providing objective, comprehensive coverage of all forms of commercial products. CTR contains no advertising. It is published monthly for $30/year.
About Living in Digital Times
Living in Digital Times produces conferences and exhibits throughout the year that bring together the most knowledgeable leaders and the latest innovations that intersect technology and lifestyle. Among their many goals is to help companies understand what it means to be a consumer in today's digital world and stay a step ahead in identifying key trends in their given marketplace. Living in Digital Times produces the following summits, exhibitions and events annually at International CES: Digital Health Summit, Silvers Summit, FitnessTech Summit, TransformingEDU, Kids@Play Summit, MommyTech Summit, Mobile Apps Showdown, Last Gadget Standing, FashionWare Show and the KAPi Awards. For more information, visit http://www.LivinginDigitalTimes.com.
About CES
The International CES is the world's gathering place for all who thrive on the business of consumer technologies. It has served as the proving ground for innovators and breakthrough technologies for more than 40 years—the global stage where next-generation innovations are introduced to the marketplace. As the largest hands-on event of its kind, CES features all aspects of the industry. And because it is owned and produced by the Consumer Electronics Association (CEA), the technology trade association representing the $203 billion U.S. consumer electronics industry, it attracts the world's business leaders and pioneering thinkers to a forum where the industry's most relevant issues are addressed. Follow CES online at http://www.CESweb.org and through social media: http://www.CESweb.org/social.
###