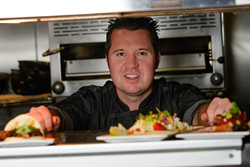 We've worked diligently on creating even more of an experience for our guests, a fun dining and social vibe that they will remember and want to share with their family and friends
Boca Raton, FL (PRWEB) January 31, 2017
Kapow! Noodle Bar ("Kapow"), part of South Florida's Sub-Culture Restaurant Group, is pleased to announce that renowned chef, Tim Nickey, has joined the Kapow team as Corporate Executive Chef. Chef Nickey now oversees the culinary programs for both the original Boca Raton restaurant and Kapow's forthcoming location in downtown West Palm Beach, Florida.
"I'm very excited about this position with Kapow and have enjoyed rolling out the new menu for our guests," said Chef Nickey, Corporate Executive Chef of Kapow. "We've worked diligently on creating even more of an experience for our guests, a fun dining and social vibe that they will remember and want to share with their family and friends."
Chef Nickey hails from Philadelphia, Pennsylvania, where his career began in the kitchen at age 14, although he has developed some long-standing roots in South Florida. Chef Nickey became the youngest Executive Chef in the Morton's chain, at Morton's Steakhouse in Boca Raton, Florida in 2002, later becoming the Executive Sous Chef for Abe & Louie's Steakhouse also in Boca Raton, and eventually joining the China Grill Management team in 2007. Being promoted from Executive Sous Chef at China Grill to Executive Chef of three entities: China Grill, Dragon Sushi, and Kobe Club Miami has helped develop Chef Nickey's keen sense for food production and menu development over the years. His kitchen management experience paired with his love for travel have blended together quite nicely to add a new charisma to his take on food service which Kapow's leadership team recognizes as a major win for the group.
"Utilizing the past couple of weeks of Kapow's guest service as a barometer for this statement, I can honestly say that we are blown away by Chef Nickey's creativity, innovation, and mindfulness when it comes to delivering interesting, unique and impressive dishes that represent Kapow's exploration into the evolution of dining and its commitment to culinary prowess," said Vaughan Dugan, co-owner of Kapow.
Kapow's new food program launched on January 10, and Chef Nickey has indicated that he pulled much of his inspiration behind the new Kapow menu from Japan, Thailand, China, and Vietnam. Kapow guests can expect to be "wowed" not only by the vibrant new menu, but experiencing the same fun, energetic, and friendly environment that the institution has built up over the years.
Kapow co-owners Rodney Mayo and Scott Frielich, both well-known restauranteurs within the South Florida scene, believe that with Chef Nickey in place as Corporate Executive Chef, the Kapow brand will increase its reach into the minds (and bellies) of even more discerning guests in the coming year.
"Having Chef Nickey on board as Corporate Executive Chef will ensure that our 'People First' culture is fostered and that our guests are genuinely thrilled with each visit to Kapow," said Scott Frielich, co-owner of Kapow.
For more information on this or other Kapow Noodle Bar News, please visit: http://www.KapowNoodleBar.com
About Sub-Culture Restaurant Group
Sub-Culture has grown to be an iconic name in the South Florida restaurant and nightclub industries over the past 30 years. With more than 75 years of experience and upwards of 12 locations, with 3 more in the works, the group has helped shape the South Florida dining and entertainment landscape. For more information, please visit: http://www.subculturegroup.com
About Kapow! Noodle Bar
Infusing Asian and French Vietnamese flair, Kapow pushes the envelope of innovation and vibrancy within the restaurant space. Kapow's first location in Mizner Park, Boca Raton, Florida, was given the award for "Best Happy Hour" in Palm Beach County as well as the coveted "Best New Restaurant" in Palm Beach County in 2012. For more information, please visit: http://kapownoodlebar.com.