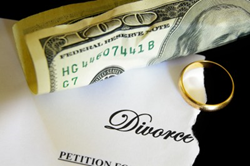 Often, high wealth divorces can go on for years before all of the assets get untangled.
Boston, MA (PRWEB) January 28, 2014
Recently, UltraTrust.com, founded by Estate Street Partners as an informational website on expert irrevocable trust and estate planning, reviewed and analyzed the financial consequences of Kardashian's divorce filing, according to the court documents, on December 13, 2013 (Kardashian vs. Odom, CA Superior Court, No: BD593072), from her husband Lamar Odom (2).
Finally after months of what USA Today calls Lamar Odom's "bad behavior," (1) Khloe Kardasian has filed for divorce. According to court documents, Khloe and Lamar only married about 4 years ago, had a prenuptial agreement, but the complications of a divorce could be devastating (2). "Some of the gossip websites are saying the prenuptial agreement and lack of spousal support will make the divorce smooth," states Rocco Beatrice, Managing Director of Estate Street Partners, "but I have my doubts. Over $118 million can make for rough waters, even with a prenup." Often, high wealth divorces can go on for years before all of the assets get untangled.
The first area to potentially slow Khloe and Lamar's divorce is real estate. Khloe and Lamar have started the ball rolling, according to Forbes, by recently listing their California mansion for $5.5 million. (3) "Real estate often heightens emotions because that is where the marriage started, the problems arose and the marriage ended," explains Mr. Beatrice, "A party may say they want to sell, but then asks a high price. The other party may want to just get it over with. Add that to normal market fluctuations and just the real estate sale alone could hold up a divorce."
The rumors swirling around Lamar and his drug use could also add fuel to the fire according to Fox Sports. In fact, he pleaded no contest to driving under the influence and had a one day stint in rehab. (6) "Spend one day at divorce court and watch how many people don't show up for their divorce proceedings," exclaims Mr. Beatrice, "the majority of the spouses that do show up claim their spouse is drunk or on drugs." "Divorces can go on for a while if there is difficulty getting the parties in the same room. In fact, the majority of divorces, even ones with a prenuptial agreement, take a while to get settled and the majority of that time is spent in a meeting room, not the courtroom."
The divorce documents clearly state that the community property will be divided according to a prenuptial agreement. In fact, if the prenuptial is challenged by either Khloe or Lamar, the courts will have to decide on the prenuptial before the divorce can even get started. (2)
"There are so many different grounds on which to challenge a prenuptial agreement," explains Mr. Beatrice, "there are cases upon cases of prenuptial agreements being thrown out because of things like coercion, non-disclosure of assets, and changes in circumstances. There is no reason to think that if either party wants to challenge the agreement that they will, at the very least, to hold up the proceedings and at the most start the entire divorce at square one with no prenup."
The experts at Estate Street Partners suggest that Lamar and Khloe should have looked outside of prenuptial agreements. "There are other options that don't involve a mutual signing of a contract," explains Mr. Beatrice, "in fact, they can be done before one is even contemplating marriage." Many celebrities use what is known as an irrevocable trust to keep their assets separat e with requiring the approval or knowledge of the spouse-to-be.
In fact, celebrities also use these trusts to hide their assets from prying eyes. A home, business or asset in an irrevocable trust lists the owner as the trust and not the celebrity. When a celebrity enters into a marriage, they don't own these assets, the trust does. When a celebrity (or anyone else for that matter) gets a divorce, the property isn't property of the marriage, it is still owned by the trust and that is where it stays. "If Khloe and Lamar both had trusts coming into the marriage, it wouldn't matter how long the divorce took. The majority of assets would be separated even before the marriage," extols Mr. Beatrice, "An irrevocable trust may save time, conflict and make a bad situation a little more palatable."
To learn how to protect assets save on estate taxes and probate costs visit UltraTrust.com, the irrevocable trust experts. Visit MyUltraTrust.com to set up a DIY, online irrevocable trust plan.
Estate Street Partners
Assets can be protected from frivolous lawsuits while eliminating your estate taxes and probate, and also ensuring superior Medicaid asset protection for both parents and children with their Premium UltraTrust® Irrevocable Trust. Call today at (888) 938-5872.
1. usatoday.com/story/life/people/2013/12/13/khloe-kardashian-filing-divorce-lamar-odom-reports/4012669/ 12/13/13
2. tmz.vo.llnwd.net/o28/newsdesk/tmz_documents/1214_khloe.pdf - 12/14/13
3. forbes.com/sites/trulia/2014/01/09/khloe-kardashian-and-lamar-odom-selling-home/ - 1/9/14
4. espn.go.com/nba/story/_/id/10135703/khloe-kardashian-files-divorce-lamar-odom - 12/14/13
5. cbsnews.com/news/khloe-kardashian-files-for-divorce-from-lamar-odom/ - 12/13/13
6. msn.foxsports.com/nba/story/khloe-kardashian-lamar-odom-divorce-suicide-overdose-100913 - 10/10/13