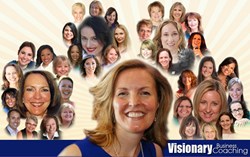 Introducing a Paradigm Shift in Consciousness: Change at the Speed of Imagination with Appreciative Inquiry.
(PRWEB) September 16, 2013
The Appreciative Inquiry Telesummit - A Telesummit that asks transformational questions to create inspired action
Find out the real-life stories behind 40 successful entrepreneurs who have focused on their strengths to create inspired action and upward spirals in their life and business and how you can too.
This telesummit is the beginning to being involved in an "Appreciative Inquiry" community. It is Karen's intention to bring together her mentors and colleagues that she respects who have supported her own personal journey to move from being burnt-out and broken down to living a life and business full of Grace and fulfillment, to bring each of the 40 qualities that are embodied by each entrepreneur's work. Each of these entrepreneurs chose to live by their Divine Life Purpose and monetize their mission along the way so that they could serve more people. Karen Leckie's intention is for you to experience a transformation and create upward spirals in every area of your life and business.
In this telesummit, hosted by Karen Leckie, the method of Appreciative Inquiry is used, which creates positive energy in the group, is an intentional process of asking positive questions and is an alignment of strengths to make the weaknesses irrelevant. Reserve your complimentary spot on the telesummit here.
The "Appreciative Inquiry" community of mentors believe in inspiring and supporting women and men around the world to have great success with Boldness, Prosperity, Success, Wealth, Joy, Creativity, Evolution, Authenticity, Happiness, YoUniqueness, Vision, Inspiration, Money, Alignment, Calm, Courage, Playfulness, Clarity, Strength, Leadership, Commitment, Freedom, Love, Engaging, Abundance, Presence, Unstoppable, Permission to Receive, Collaboration, Truth, Confidence, Self-Esteem, Health, Attitude, Quality, Openness, Perseverance, Story, Allowing and Transformation!
Join Karen Leckie as she hosts 40 amazing speakers.
This Free Event is taking place from September 17-27, 2013.
It isn't just a series of interviews, it's a 10 day journey on a shift in consciousness and it can happen in minutes. Click on the link to register your complimentary pass to this 10 day online event.
Appreciative Inquiry brings the best of the past forward, while creating a new vision for the future by the 4-D technique:
1) Discover the "best of what is" – identify where the processes work perfectly
2) Dream "what might be" – envision processes that would work perfectly all the time
3) Design "what should be" – define and prioritize elements of perfect processes
4) Create a Destiny based on "what will be" – participate in the creation of the design
Find out more here: http://goo.gl/iisnzL.
This event is full of valuable tools and strategies that heart-centered entrepreneurs can use right away in their business. Be ready to be inspired and have a transformation in your life and business.