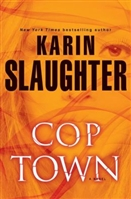 "One of the best crime novelists in America." (The Washington Post)
Portland, OR (PRWEB) June 03, 2014
International bestselling author Karin Slaughter has sold more than 30 million books in print, published in 30 languages, and is passionate about saving libraries. She is online bookseller VJ Books' Author of the Month.
Slaughter is best known for her Grant County series which is set in the fictional town of Heartsdale, Georgia, and the Will Trent series, which takes place in Atlanta, featuring special Agent Will Trent and his partner Faith Mitchell.
"We are excited about COP TOWN" reports bookstore owner John Hutchinson, "Karin has garnered quite a following of readers as she is the master of character, atmosphere, and suspense. For now COP TOWN is a stand-alone, but one can only hope that it's a series in the making."
To help spread the word about the needs for community support for public libraries, Karin founded Save the Library Foundation and has spearheaded SaveTheLibraries.com, with events to benefit the DeKalb County (GA) Public Library system. Her op-ed piece Fight for Libraries As You Do Freedom in the Atlanta Journal-Constitution and fund raising events with fellow International Thriller Writers (ITW) authors Tess Gerritsen and Michael Connelly, have raised over $50,000 for the project.
Slaughter's UNSEEN (Random House) took the prize for Best Foreign Thriller at the 11th annual Crimezone Thriller Awards, her unprecedented fifth win, with about 10,000 crime writers, publishers, reviewers, and readers voting for Slaughter's last novel.
Praise for Karin Slaughter:
"Karin Slaughter is simply one of the best thriller writers working today, and COP TOWN shows the author at the top of her game—relentless pacing, complex characters, and gritty realism, all set against the backdrop of a city on the edge. Slaughter's eye for detail and truth is unmatched. . . . I'd follow her anywhere."—Gillian Flynn
"Stunning . . . In Karin Slaughter's first stand-alone novel, she breaks new ground with this riveting story of two young police officers trying to stop a serial killer targeting cops. Her characters, plot, and pacing are unrivaled among thriller writers and if you haven't yet read her, this is the moment."—Michael Connelly
"A masterpiece . . . Much more than a thriller . . . Karin Slaughter's unforgettable female characters and stunning evocation of time and place make Cop Town one of the most powerful and moving reads of recent memory."—Kathryn Stockett
About VJ Books
VJ Books has specialized in signed and collectible modern fiction for nearly 20 years. Each month, VJ Books' customers are able to choose from dozens of autographed books from some of the most exciting, highly acclaimed authors in the areas of mystery, suspense, science fiction and modern literature. Additionally, they continue to offer an impressive selection of back list, rare, out-of-print, and special edition titles.
Contact:
VJ Books
Virginia Lenneville
503-750-5310
marketing(at)vjbooks(dot)com
Facebook: vjbooks
Twitter: vjbooks